The iPad has been available for a few weeks now, but only the Wi-Fi version. The actual availability of the device has done little to assuage the debate over whether it is a simple consumer toy, or a revolutionary business tool–or some gray area compromise between the two. However, the 3G models of the iPad will soon be here–although Apple has announced that it is delayed until May 7–and the 3G functionality fundamentally shifts the debate in favor of business tool.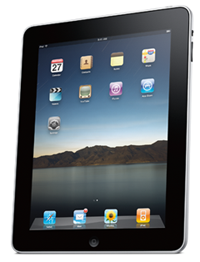 Granted, the 3G connectivity will only be available through AT&T–Apple's lone iPhone partner in the United States (at least for now)–and there have been significant complaints about both the availability and reliability of AT&T's 3G network. That said, the 3G iPad still offers a compelling solution for business professionals on the go.
With the right apps, the iPad can fill the role of the notebook for most scenarios. Rather than lugging around a four or five pound notebook with a meager two hours of battery life, mobile business professionals can carry the iPad–slimmer, lighter, and four times the endurance when it comes to battery life.
Notebooks with 3G connectivity, or using a 3G USB modem or tethered to a 3G mobile device, do offer an advantage over the Wi-Fi-only iPad models in that they are capable of connecting to Internet and Web-based resources from virtually anywhere, rather than relying on the availability of a Wi-Fi network. That 3G convenience comes with a price, though–a monthly price with a contractual obligation to pay it whether it is used or not.
The 3G models of the iPad offer the advantages listed above of the iPad vs. the notebook, with the added benefit that the 3G connectivity is only a click away if its needed, but without the long-term contract. Mobile business professionals have the 3G functionality as an insurance plan that can be activated on the fly if needed, and turned back off just as easily–incurring a reasonable $15 or $30 cost depending on whether the 250Mb plan or unlimited monthly access is selected.
The irony of doubling down on a 3G data network that appears to be already exceeding its limits has not been lost on analysts or customers. However, when asked how AT&T plans to address the increased demand on the 3G network from the iPad, the response from execs was that AT&T does not expect significant 3G demand from the iPad.
Rick Lindner, CFO of AT&T, said "We believe, though, the device, based on where we believe it will be used–in homes, in offices, coffee shops, bookstores, airports, so on and so forth–will be used a substantial amount of time in a Wi-Fi environment. And so we'll just–we'll have to monitor this usage as the device gets out there. And if it's substantially different, we'll adapt to it."
I agree with Lindner that most iPad use will be via Wi-Fi. Why not? That is the beauty of the contract-free arrangement Apple negotiated with AT&T. Even users who have paid the additional $130 for the 3G-enabled iPad will most likely rely on Wi-Fi as much as possible, and simply activate 3G connectivity as needed.
There is another advantage that the 3G iPad has over its Wi-Fi-only sibling is GPS functionality. Business professionals on the go can make use of location-based services and mapping to navigate to customer sites, or find the nearest coffee shop or a decent place for lunch.
The iPad isn't without its limitations, and it won't completely replace a notebook or desktop PC for the vast majority of users, but the 3G iPad offers a solid mix of productivity and mobile connectivity in a more portable and longer-lasting form factor that make it ideal for mobile business professionals.
Tony Bradley is co-author of Unified Communications for Dummies . He tweets as @Tony_BradleyPCW . You can follow him on his Facebook page , or contact him by email at tony_bradley@pcworld.com.
Follow Tech Audit on Twitter.