Lets assume that Gizmodo's blurry and leaked photos of Apple's alleged iPhone 4G are the real thing. If so, Apple appears to be taking a step backwards in product design. From what I can tell of Gizmodo's alleged iPhone 4G phone it is a complete design departure from previous iPhones, and a poor one at that.
Gizmodo Editor Jason Chen wrote that the supposed iPhone 4G was "found lost in a bar in Redwood City, camouflaged to look like an iPhone 3GS." He didn't say how Gizmodo got a hold of the phone.
(All images here are from Gizmodo. Click on them to enlarge)
The most striking thing about Gizmodo's iPhone 4G is that the rounded edges of previous versions are gone, replaced with a flat back panel, possibly covered in glass, and surrounded in a brushed aluminum trim.
That's a puzzling design, because hard edges are not that comfortable to hold. Take an existing iPhone and hold it face down, with the edges of the glass against your hand. It feels weird, especially compared to how the phone's rounded edges rest in a cupped palm. Don't have an iPhone to test? Just look at every smartphone on the market, and try to find one with no rounded edges on the sides. Even the decidedly tougher Motorola Droid tapers off in the back.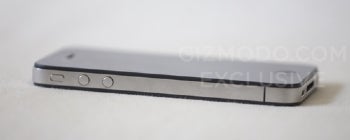 Let's forget about ergonomics for a moment and talk about aesthetics. What's with the broken pieces of aluminum that comprise the trim around the sides of the phone? It's uncharacteristic of Apple, whose iPad and MacBooks use single sheets of aluminum for each segment, with holes punched for inputs and buttons. I agree with the assessment of John Gruber at Daring Fireball, who believes the design is a prototype iPhone that may change before the phone reaches consumers' hands. I just hope the whole thing looks a lot different.
That said, I'm less skeptical of the technical specs that Gizmodo uncovered: A front-facing video camera, camera flash, a higher-resolution display, a secondary mic for noise cancellation and Micro-SIM support instead of a full-sized SIM slot. Those are all logical and expected improvements to bring Apple up to speed with the competition.
But housing all those improvements in a phone with no curves seems like a step backwards.