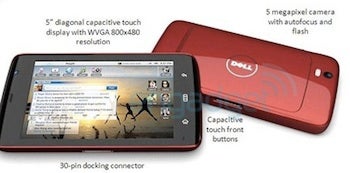 Dell's upcoming tablet, the Mini 5, has gained approval by the Federal Communications Commission (FCC), and the approval documents offer hints as to what US networks the device will be available on.
Dell's recent filing indicates that the colorful Android device, also known as the Streak, will not be exclusive to just one US carrier. The Snapdragon-powered portable has already been confirmed for AT&T, but this new filing points to the device also being available on T-Mobile.

The latest FCC application lists a second version of the Mini 5. Bearing the product code M01M, the tablet filing details its use of the WCDMA Band IV frequency, the very frequency T-Mobile use for their service. This tells us that Dell is looking into having the device in as many hands as possible, a wise move considering the planned push on heavy integration with Amazon features, including Kindle services.
Dell's 5-inch tablet is expected to ship this summer.
[Via Engadget]
Follow GeekTech and Chris Brandrick on Twitter.