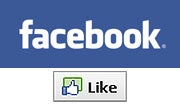 If you like saying "like," you are, like, totally going to like what's going on at Facebook right now.
Damn — it's tough to talk about Facebook's evolution without sounding like a Valley girl.
Facebook's newly announced changes, you see, are all about the word "like." The social network is in the midst of rolling out some updates to its service, and they revolve largely around what's known as the "Like" button.
The biggest tweaks of all, however, may still be ahead — and may reach far further than Facebook.com.
Facebook's In-Site Changes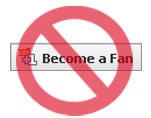 So far, Facebook's announcements have focused on what's inside its site. The company has officially altered the wording on its Facebook Pages, which are used by companies and public figures. Instead of clicking a button to "become a fan" of a Facebook Page, you'll now click a button to "like" it — the same way you would if it were a status update, a photo, or even a dreaded Facebook quiz.
Subtle difference, right? But it represents something far more significant.
The change in wording is accompanied by a stronger push to get you to "like" public pages. Facebook will start suggesting Facebook Pages to you based on other things you've said you like — things from your profile, for example, such as your favorite bands and movies. If you accept one of Facebook's automatically generated invitations, the original text in your profile will disappear. In its place will be a link to the Facebook Page you just joined. And that information will, by default, be publicly accessible.
"Once you make your choice, any text you'd previously had for the current city, hometown, education and work, and likes and interests sections of your profile will be replaced by links to these pages," Facebook engineer Alex Li explains in an official blog posting. "If you would still like to express yourself with free-form text, you can still use the 'Bio' section of your profile."
Confused yet? Hang on — it's about to get even more involved.
Facebook's Universal 'Like' Button
The next part of Facebook's "Like" expansion, according to various reports, will be bringing the "Like" button to the rest of the Web. The as-of-yet unconfirmed plans could allow third-party news and blog sites to place Facebook "Like" buttons on their own story pages.
Here's how The New York Times explains it:
"Similar to the Facebook 'Share' buttons that are already popular with many Web sites, the 'Like' buttons will make it easier for Web publishers to offer more social experiences, in essence allowing Facebook friends to enjoy those sites together."
But wait: There's more!
"While 'Share' buttons allow users to post links that their friends see on their Facebook pages, those links are fleeting," The Times says. "The 'Like' button will allow Facebook to keep a record of what a user linked to, providing the company with ever more data about people's preferences. Facebook, in turn, plans to share that data with Web publishers, so that a magazine Web site, for instance, may be able to show users all the articles that their friends like."
That's, like, really involved.
While Facebook hasn't directly confirmed or denied the upcoming launch of a universal "Like" button, the company is saying some reports about the feature are flat-out wrong. The Financial Times published a story Monday morning that said the Web-wide system would track your behavior around the Web in order to deliver behaviorally targeted ads back at Facebook.com. A Facebook spokesperson tells me that story is incorrect; the company, she says, has no planned changes related to its "ad offerings or ad policies."
Facebook's universal "Like" button is expected to be revealed at the company's F8 conference on Wednesday. We can only hope a universal "Indifferent" button will follow soon thereafter.
JR Raphael is a PCWorld contributing editor and the co-founder of eSarcasm. You can like (or dislike) him on Facebook: facebook.com/The.JR.Raphael