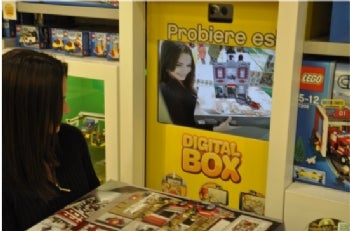 Buying big Lego sets when I was little was always a bit of an adventure. What would the sets look like when they were assembled? How would those palm trees look from the side of the pirate island? Combining their powers with 3D animation experts Metaio, Lego is bringing augmented reality Digital Boxes to its stores to show you just what that Lego set will look like when it's fully built. Video after the jump.
While you can't hold a completed Lego set in your hands before you buy it, you can hold an unbuilt set up to the Digital Box, which will show you holding a 3D model of the finished set. You can look at every angle and detail of the assembled bricks without taking them out of the box!
What's it like to use the Digital Box's augmented reality to preview your finished Lego construction projects? In the press release, Torben Nielsen, Directory of 3D technology in the Lego Group's Digital Development Department reports receiving "very positive feedback from our stores and customers." If you're near a Lego store in the US, the UK, or Germany, try out one of the Digital Boxes and let us know how it goes!
Happy viewing–and building–from all of us Lego fans at GeekTech.
Further Reading
Want an iPad Now? Build Your Own With Lego
Lego Robot Solves Your Sudoku Puzzles
Geekiest Houses: Would Your Spouse Leave You If You Did This to Your Residence?
Follow GeekTech on Twitter or Facebook.