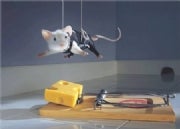 An iPad theft in which a victim's finger was ripped off along with his iPad add to a growing list of Apple products attracting oddball crooks and offbeat crimes. Most tech related thefts are your garden variety smash and grab attacks. Maybe a laptop goes missing from a backseat. But every so often, when Apple gear is involved, there's a twist makes the the crime remarkable. Here are five of the craziest I've heard of.
Thieves take iPad, Finger
Tuesday's news involves 59-year-old Bill Jordan, who was picking up an iPad from the Apple Store for his employer, according to a Fox affiliate in Denver, Colo. In broad daylight, thieves grabbed the bag, but the draw string wrapped around Jordan's finger, pulling off the flesh and tendons in the struggle. Police have surveillance tapes from the Cherry Creek Mall where the crime took place.
Gone in 31 Seconds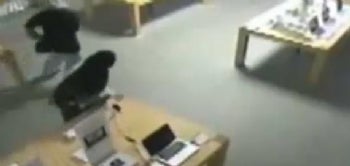 Last September, five masked men executed a perfect smash-and-grab at an Apple Store in Marlton, N.J. After breaking through the store's plate glass door with a brick, they only took 31 seconds to clear out at least $40,000 in MacBooks, iPhones and iPod Touches. I can't find any follow-up stories mentioning arrests or leads.
Good Guesswork
Nicholas Woodhams ran an iPod repair business in Kalamazoo, Mich., but apparently business wasn't good enough to dissuade him from scamming Apple out of 9,075 iPod Shuffles. Woodhams used trial and error to guess serial numbers on a repair Web site, filing bogus replacement claims with Apple. Cupertino got wise to the scheme because they never received any broken iPods in return, and the cards they tried to charge him back on were fully-depleted, Visa-branded gift cards. He pled guilty last April.
Straight Out of Hollywood
Thieves in South Brunswick broke out some advanced maneuvers to steal $26,000 in Apple laptops from a Best Buy. After climbing to the roof of the store via a gas pipe, they cut a hole in the ceiling, then rappelled down into tall racks to avoid triggering motion-sensors, landing in a part of the store obscured by banners to avoid appearing on security cameras. They came out the same way they came in, and haven't been found.
Find My (Stolen) iPhone
Why do you pay $100 per year for a MobileMe account? Partly because if your phone gets stolen, you can look up its location on a computer to help police nab the criminals. That's what happened in Shadyside, Penn., after two men robbed another man at gunpoint, taking his iPhone and credit cards. Police caught up to the alleged robbers, along with an accomplice, and arrested them all.
Bonus: Richard Belzer in Apple Store Attack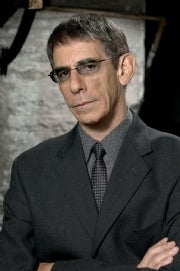 Last month, "Law & Order" star Richard Belzer allegedly approached an Apple Store employee, shook her by the shoulders, choked her and claimed "I need help!" That's at least according to the employee, 21-year-old Milan Agnew. Belzer says he merely put a hand on her shoulder when she offered to help him. Police didn't file any charges, so I can't technically call this a crime, but it's certainly crazy and Apple-related.