At a Glance
Expert's Rating
Pros
Big screen delivers good color.
Blazing specs push the latest apps.
Cons
Battery life is slightly too short.
Lacks Blu-ray drive.
Our Verdict
You don't have to be a gamer to enjoy the great speed and good-looking screen on the G73Jh.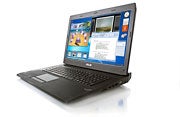 Real gamers hate marketers' lures. Those suits ambush gamers with branded drinks, razors, and PCs. Just create great products instead of selling extreme attitude and garish designs. The ASUS ROG G73Jh-A2 will impress the authentic gaming crowd as a strong laptop. But its high-end internals and neutral case will find appeal beyond the gaming-set target: Anyone looking for a big-screen portable should consider this model. While the G73Jh skimps on some media features–no Blu-ray player, for example–its nimble performance can make it your primary rig for anything from BioShock 2 to Adobe CS5.
The $1599 G73Jh swings hard in our benchmarking, rating an overall 89 in its performance score while rattling off 111 points in our WorldBench 6 test suite. An Intel Core i7 Q 720 running at 1.6GHz powers nearly any application, from content-creation to gaming. In the Unreal Tournament 3 test (at high-quality, 1024-by-768-resolution settings), the laptop pulled in an average of 92.5 frames per second; that shows enough power to keep any current title smooth.
We pushed the system further, testing the latest titles, including Just Cause 2 and Metro 2033. Both look and play great. With the ATI Mobility Radeon HD 5870 GPU and a gigabyte of dedicated graphics RAM, it might be a while before some upcoming title causes this system to break a sweat.
The G73Jh feels like a solid laptop. At 8 pounds and with a huge footprint, you're not going to tote this around without a toll to your chiropractor. But somehow, the PC feels more agile than its weight suggests, comfortably sitting on a your lap.
The big surface area lets the keyboard and touchpad stretch out. The laptop includes a full number pad, but those keys are slightly narrower than normal. The keyboard feels tight and responsive to typing, and the big wrist rest helps you stay comfortable. You even have enough room (barely) to use the included Razer Abyssus mouse directly on the wrist rest.
That simple two-button-and-scroll mouse includes high-speed modes to better track your movement. I didn't notice any difference with those settings, but the pointer feels light and good in-hand overall. The track pad misses, however. While the big surface feels great for moving the cursor, it includes a teeter-totter button for left- and right-clicks. Push near the middle, and you'll have to use a lot of pressure. Push directly in the center, and it won't click at all.
The 17.3-inch, 1920-by-1080-pixel screen looks great in most situations. You can view multiple spreadsheets or get absorbed into games and movies. Text looks clean, and it shows off a bright range of color. Contrast is good, but it sometimes suffers under the slightly glossy surface; the laptop can handle a fairly bright room, but reflections can overpower the image near windows or outside. The screen also doesn't tilt back quite far enough. You'll probably never have a problem with its angle on a desk, but you might want it to lean a little further if it's perched on your lap.
With a 1080p display, strong video processor, and target audience of gamers, the G73Jh begs for Blu-ray support. Unfortunately, that kind of drive didn't make the cut. Instead, you get a DVD- and CD-burner. Hard disks fare batter, with this model including two 500GB drives in a RAID array.
At least the audio performance meets expectations. It'll never blow you away, since it favors mid-tones instead of fully balancing the highs and lows. But it gets loud enough to fill a room without becoming distorted. Stereo separation might be the biggest disappointment here–unless you lean your head over the top, most of the audio seems to come from the same place. It's not a big deal for most music, but gamers won't be able to easily hear the direction of an approaching enemy. However, the fan stays fairly quiet in most situations, so you can concentrate on those footsteps.
The usual ports and extras complete this laptop. It packs four USB 2.0 ports, VGA, HDMI, audio in and out, and an 8-format card reader. Its Webcam takes good-enough pictures and video. You also get 802.11b/g/n Wi-Fi, gigabit ethernet, and Bluetooth. But throwing in an eSATA port would have been nice.
Battery life is also just a touch disappointing. The laptop lasted 1 hour, 48 minutes in our testing. Sure, the high specs require a lot of power, but even big laptops should last at least 2 hours.
We don't know how this specific system will last over the long term, but it felt solid throughout our testing. In our latest laptop reliability survey, ASUS sits in the middle of all companies.
The ASUS ROG G73Jh doesn't need any gimmicks to attract gamers; just its performance lends it real credibility. A few omissions, such as that missing Blu-ray drive, are disappointing. But you don't have to be a gamer to be enticed by the speedy processor and big screen.