At a Glance
Expert's Rating
Pros
Impressive general performance
Compact size
Our Verdict
What AVADirect's Nano Cube lacks in finesse, it makes up for in raw power.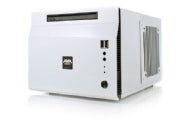 The AVADirect Nano Cube ($1535 as of April 20, 2010) is a mainstream desktop in a small shell. It isn't the most full featured machine, but it makes up for its shortcomings by providing near category-leading performance.
The Nano Cube we reviewed is equipped with a 2.67GHz Core i5-750 processor and 4GB of RAM. Windows 7 Home Premium (64-bit) resides on the solid-state drive, which is capped at a paltry 120GB. Thanks to the quad-core processor and the speedy SSD, the Nano Cube earned a WorldBench 6 score of 134–a mark that ranks it among the upper echelons of the mainstream desktops we've reviewed.
The Nano Cube, bearing an ATI Radeon HD 5850 graphics card, delivered impressive gaming results. We saw an average of 102 frames per second in Unreal Tournament 3 at a resolution of 2560 by 1600 pixels; that tops the frame rate of both the Micro Express Microflex 75B (82 fps) and the CyberPower Gamer Xtreme 2000 (95 fps). Nevertheless, keep in mind that both of those machines are more flexible should you choose to upgrade your graphics card later on.
As mentioned, the Nano Cube doesn't offer much room in which to maneuver or upgrade once you've popped off the lid. The internals are cramped, though cable management isn't exactly haphazard–the machine simply doesn't have anywhere for the wiring to go. The Radeon HD 5850 is tucked in quite snugly, which means you can forget about upgrading to a physically larger graphics board (the 400W power supply challenges that option as well). The motherboard has only two memory slots available, ruling out upgrades in that regard too.
The Nano Cube fares a bit better on general connectivity options. You get a total of six USB ports, two on the front and four more at the rear. We typically prefer to see a few more ports on a PC's front for accessibility's sake, but a chassis this small makes port access less of an issue. The machine has no multiformat card reader, either–but, again, where exactly would you put it?
Also on the rear you'll find a pair of eSATA ports, optical and coax S/PDIF outputs, integrated 7.1 surround sound, and PS/2 ports for your keyboard and mouse. The graphics card offers a pair of DVI ports, an HDMI port, and a DisplayPort connector. If expansion is vital, you can certainly do better; but the Nano Cube is first and foremost a (comparatively) portable gaming machine.
As befitting a miniature gaming platform, all of the software bundled with the Nano Cube is geared toward tuning and boosting the machine's performance. The Nano Cube comes with Smart Guardian, EZ Tuner, and ABS (Auto Boost System); these applications are typically bundled with enthusiast-level motherboards, and will likely be of use to owners already intimately familiar with the mechanics behind eking the most out of their machine.
The AVADirect Nano Cube is a promising PC. Its flaws are largely tied to the limitations inherent in cramming high-performance components into a smaller case. Chances are, if you're looking for a smaller rig to save desk space or to haul to your next LAN party, you aren't expecting a readily upgradable machine. For a slightly more flexible option, however, take a look at the Polywell MiniBox P5500C, a performance desktop that is a bit bigger than the Nano Cube but offers a free PCI Express x16 slot and a hot-swappable drive bay.