Google gobbled up the chip-making startup Agnilux, whose employees were behind Apple's A4 iPad processor. Google didn't say specifically why it bought Agnilux, but many theorize it's to help build mobile chips for Android or Chrome OS mobile devices.
Agnilux's founders previously worked for PA Semiconductor, which Apple acquired in 2008. These folks went on to create the A4 chip that powers Apple's iPad. So, Google bought Agnilux to make some sweet chips for its own Android or Chrome OS mobile devices, right? Not so fast.
A Google mobile processor would be big news, but as the New York Times reported in frustration last February, it's not really clear what Agnilux does, exactly. All the Times could learn, from a former employee, is that the startup is working on some kind of server, and has a partnership with Cisco.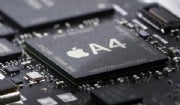 So Google's other potential use for Agnilux is to create chips that power Google servers. That's not nearly as sexy as the "Google's going to make its own mobile processors" theory.
Still, I wouldn't rule out any possibility for this startup. As noted by PeHUB, which broke the acquisition news, Agnilux was in talks with Microsoft, Cisco and Texas Instruments before going to Google. All four companies are different at their core: Microsoft does consumer and enterprise software and hardware; Cisco does networking and communications, and some consumer products, such as the Flip; Texas Instruments does semiconductors, calculators and projectors; and Google is all about Web services.
What does that mean for Agnilux? Who knows, but I wouldn't worry too much about it unless Google announces an answer to Apple's A4.