Adobe has flung plenty of mud at Apple for refusing to support Flash on the iPhone and iPad, and Apple's response has always been silence. Not anymore.
An Apple representative finally shot back in a rare public statement, responding to Adobe's claim that Apple ties down developers to the iPhone by not letting them code in Flash, which is cross-platform.
"Someone has it backwards–it is HTML5, CSS, JavaScript, and H.264 (all supported by the iPhone and iPad) that are open and standard, while Adobe's Flash is closed and proprietary," spokeswoman Trudy Muller said in a statement to Cnet.
As far as Apple comments go, that's as harsh a burn as you're going to get — unless it's coming directly from Steve Jobs.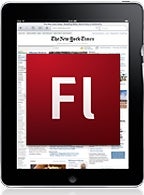 Adobe has a couple of reasons to be upset. It started with the iPhone and iPad not supporting Flash. A small skirmish followed, with Adobe's Lee Brimelow showing a bunch of popular sites that rely on Flash, and Jobs dissing the technology at a company-wide meeting. Later, when the iPad launched, Apple promoted a list of "iPad-ready sites," essentially special versions of popular websites that don't use Flash at all.
But Adobe had a another plan: Give developers the ability to convert their Flash programs into iPad apps, just as the company did for the iPhone. Apple's response? Change the iPhone developer terms to allow only a select few programming languages, excluding Flash. Conversion of Flash apps to the iPhone was a major feature of Adobe's newly released Creative Suite 5, and Apple killed it.
That brings us to this week. Adobe has announced that it's giving up on Flash conversion to the iPhone by dropping support in future versions of Creative Suite, but the company made sure to insult Apple in the process. "We are at the beginning of a significant change in the industry," wrote Mike Chambers, Adobe's principal product manager for Flash developer relations, "and I believe that ultimately open platforms will win out over the type of closed, locked down platform that Apple is trying to create."
Apple's response is puzzling, not just because the company rarely provides juicy quotes on the record, but because Apple already won. Adobe threw in the towel, so why throw another punch? It's rumored that Adobe will sue Apple soon, but public comments won't make a difference either way.
Either Apple's just rubbing salt in the wounds of a troublesome company that it finally defeated, or it feels the need to rationalize its actions to the public. Either way, it makes for great tech drama.