Protecting your privacy on Facebook can feel like a full-time job. The social network has made a habit of tweaking its privacy policies with some regularity — and in many cases, it's up to you to take proactive steps in order to keep your info out of the public eye.
This week's introduction of Facebook's "Open Graph" is no exception. By default, you're now opted in to the company's new social sharing services, and this time, they stretch way beyond the confines of Facebook.com.
If you're comfortable with that, more power to you. But if you'd rather keep your personal preferences private, here's a step-by-step guide to taking back control.
Facebook's Social Web and Your Privacy
First, let's take a quick jog through what we're actually dealing with here. There are two key pieces to Facebook's new Web-wide social services. The simpler one is the universal "Like" button (not to be confused with the universal "Indifferent" button, which I keep hoping will be adopted).
The universal "Like" button looks like Facebook's regular "Like" button, only it appears on blogs and news sites all over the Web. If you click it while on any external Web site, know that you're authorizing Facebook to publish your activity right onto your Facebook profile (and hence also onto your friends' news feeds). Any friends of yours who visit the third-party Web site could also see that you were there. Translation: Don't click "Like" while visiting NakedOiledNannies.com.
That's the easy part. The second (and slightly more creepy) part is what Facebook calls "instant personalization." This is a partnership-driven service in which Facebook automatically enables a "personal and social experience" on certain external Web sites.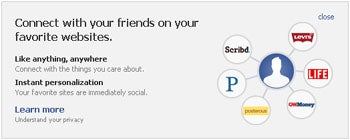 So what's that really mean? Here's how Facebook explains it:
"When you and your friends visit an instantly personalized site, the partner can use your public Facebook information, which includes your name, profile picture, gender, and connections."
Put into a real-world example, if you sign-on to Pandora — one of Facebook's initial partners — the site could automatically dip into your Facebook account and pull your favorite bands from your profile. It could then use that info to build specialized stations for you before you can even say "Selena Gomez."
The external info-sharing doesn't stop with you, either: Pandora can also notify anyone on your Facebook friend list if a band they're listening to happens to appear within your Facebook profile. Yes, your co-workers and other professional contacts will soon be privy to your late-night Miley Cyrus jam sessions.
The same concept applies at other partner sites, which thus far include Yelp and Docs.com.
Facebook Privacy Protection Guide
Prefer not to have your info automatically disclosed? There are five steps you need to take.
1. Head to Facebook's "Applications and Websites" privacy settings page. Look for the option at the very bottom of the page entitled "Instant Personalization." Uncheck the "Allow" box, then confirm that you want to opt-out.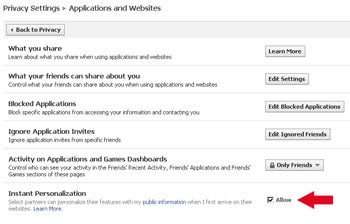 That causes your personal data to be deleted from the partner sites, but it doesn't stop your Facebook friends from accessing and sharing it in the future. In order to do that, you also need to manually block each site manually by performing the next three steps:
2. Go to the Facebook Docs app page. Click the link that says "Block Application" — located on the left-hand side, toward the top of the page — and then click "Block Docs" on the confirmation box that appears on your screen.
3. Go to the Pandora app page. Repeat the process from step 2 to block the application.
4. Go to the Yelp app page. Repeat the app-blocking process once more.
Once you've done that, head on to the next step:
5. Back on the "Applications" privacy settings page, click on the button to edit the settings for "What your friends can share about you." Make sure all the boxes there are unchecked — unless, of course, you want your friends to be able to publicly share any of those types of information — then click on "Save Changes."
But Wait, There's More…
Those five steps will protect your privacy for now. But Facebook may add more autosharing partner sites in the future.
Unfortunately, there's no guarantee that you'll be notified when that happens. But you can keep tabs on this Facebook Help Center page; it lists all the approved partners, so you'll be able to see if any new ones have been added that may need to be blocked.
Hey, I told you managing this stuff was like a full-time job. And if you think this is bad, just wait till you see what Facebook has planned next.*
*According to satirical cartoonists, anyway.
JR Raphael is a PCWorld contributing editor and the co-founder of eSarcasm. You can find him on Facebook: facebook.com/The.JR.Raphael