ComicRack is a powerful and free/donationware program which lets you read downloaded comics in many formats, including the popular .CBR and .CBZ formats. The odds are good that if you recognize those file types, you will want this program.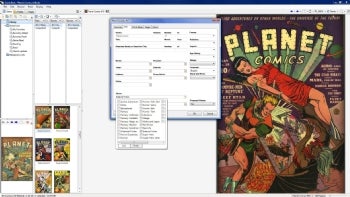 We all know Rule 34 of the Internet, but there's another rule, not named or numbered as far as I know: "If you discover you need a program to do something, odds are, someone's written it." So it is with Comic Rack. I recently discovered a site which hosts legal downloads of out-of-copyright Golden Age comics, and after grabbing a few, I realized I needed a better way to read and organize my suddenly growing collection. Thus, I discovered ComicRack.
ComicRack aspires to be "iTunes for your comics," and it shares some features with that program. It's both an organizer and a viewer, letting you create libraries and filtered lists of your comics, as well as displaying them for viewing, with many choices as to page layout and display features, including a right-to-left "manga mode", page rotation, and much more. Indeed, "And much more…" is sort of the catch phrase of Comic Rack.
ComicRack is not just feature-rich, it's feature-Bill-Gates-rich. The number of options is incredible. Just to pick one example, on the "Pages" tab, you can set the type of each page to any of 11 categories, such as "Front Cover," "Story," or "Advertising," then filter the pages menu to just show particular categories. There's always something new to discover as you dig through the menus and dialog boxes. You'll need to dig, too, which brings us to the downsides of the program.
A labor of love and a one-man show, ComicRack is supported by an enthusiastic community. Any imaginable feature, and a few I never thought of, is crammed in. However, as with many such programs, enthusiasm for coding doesn't translate into enthusiasm for the tedious work of documenting, and the online wiki which serves as the manual is painfully sparse. It's a cardinal rule of interface design that the user should never be surprised, but ComicRack is full of surprises. Panes and lists appear and disappear almost randomly, and while you can work out the rules and the options which control them with a little effort, it can take a while to get to the point where you can load and read your comics without finding some aspect of the interface doing something you don't expect.
ComicRack is 100% free software, though, and that forgives many sins. Donations are encouraged but not required. ComicRack is regularly updated and supported, with an active community. I strongly recommend checking it out if you download comics to read on your computer. And if you're looking for a source of legal comics to download, check out GoldenAgeComics.co.uk.