At a Glance
Expert's Rating
Pros
Generous storage capacity
Strong performance for its category
Cons
Just one DVI port and no HDMI port
Our Verdict
The performance is strong and the price is right, but a dearth of advanced connectivity options disappoints.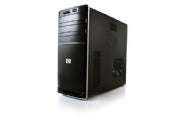 Wrapped in the stock HP chassis, the HP Pavilion p6330f ($599, as of April 20, 2010) doesn't immediately stand out from the crowd of budget PCs. But it punches things up with stellar performance, matching that of our current category favorite, the Gateway SX2840-01.
Both the Pavilion p6330f and the Gateway SX2840-01 are configured with a 2.93GHz Core i3-530 processor, 6GB of RAM, a generous 1TB hard drive, and Windows 7 Home Premium (64-bit). And as befits their identical load-outs, they earned identical WorldBench scores of 118, placing themselves among the top performers in the budget PC category.
Gaming performance on the Pavilion p6330f is–predictably–dismal. Integrated graphics simply can't deliver playable frame rates on our Unreal Tournament 3 benchmark, but no other desktop of equal or lower price fares any better. If you're looking for gaming performance, a discrete graphics subsystem is the way to go; check out our Top 10 Mainstream PCs chart for suitable options.
Though their specifications are very similar, the p6330f and the SX2840-01 do have significant differences. The Pavilion p6330f plants a multiformat card reader on the face of the machine, along with a pair of media expansion bays–one filled with the DVD-burner, and the other open. A door slides down to reveal microphone and headphone jacks, and a pair of USB ports.
For its part, the SX2840-01 moves the card reader to the angled front lip, making it a bit more accessible when the machine is on the floor. It also offers five USB ports on the front, to the HP's two.
The rear of the Pavilion p6330f is arrayed with a DVI port, a VGA port, six USB ports, a FireWire port, integrated 5.1 surround sound, an optical S/PDIF output, and a gigabit ethernet port. The SX2840-01 offers only four USB ports on the rear, but packs a speedier eSata port and omits the DVI port in favor of an HDMI port.
Like most other budget PCs, the p6330f doesn't leave much space for tinkering. Access to the chassis isn't tool-free, but a single thumbscrew separates you from the interior. Inside, you'll find an open PCI Express x16 slot, three open PCI Express x1 slots, and room to mount an additional hard drive. The wiring is a bit cluttered and can make reaching the memory slots a pain.
The input devices are standard for a budget PC: a two-button mouse with scroll wheel, and a keyboard with a few media shortcuts and volume-control buttons. Bundled software is limited to productivity software trials and a generic suite of Wild Tangent games. HP does throw in a poster-size quick-start guide, with instructions on matching cables to ports.
In a crowded field of very similar budget machines, the HP Pavilion p6330f offers strong performance for its category, but fumbles ever so slightly on delivering an ideal user experience.