At a Glance
Expert's Rating
Pros
Strong general performance
Slim, attractive case
Cons
Lackluster storage capacity
Poor expansion options
Our Verdict
Storage space is lacking, and the case leaves much to be desired, but you can't argue with the performance or the price.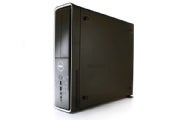 The Dell Inspiron 580s ($529, as of April 20, 2010) is in many ways a typical budget PC. Its main points of differentiation are a chassis that is slimmer than most in its category and generally strong performance for the price.
The Inspiron 580s is powered by a 2.93 GHz Core i3-530 processor–a chip that dominates our Top 10 Budget PCs chart. The Inspiron 580s runs Windows 7 Home Premium (64-bit); it offers 4GB of RAM and a paltry 320GB of storage space. Its score of 119 on our WorldBench 6 test suite puts it on a par with the rest of the category's leaders, including the Gateway SX2840-01 (118) and the HP Pavilion p6330f (118). HP's business-centric Compaq 6005 Pro makes a stronger showing (128), but it's more expensive, too.
As expected, the Inspiron 580s couldn't produce playable frame rates in our Unreal Tournament 3 graphics benchmark tests. Most machines in the Budget Desktop PCs category fail to deliver here, owing to their integrated graphics. If you're looking for gaming-grade performance, a system from our Top 10 Mainstream Desktops PCs chart will be a better fit.
The Inspiron 580s's case is plain but attractive, with a simple honeycomb pattern snaking up the chassis's face. It is equally at ease standing vertically or lying horizontally, thanks to a set of rubber feet on the side. You can't remove these feet, however, and they might be a bit of an eyesore if you prefer to keep their machine upright. The DVD burner and multiformat card reader are masked by a pair of doors, preserving the jet-black aesthetic. Also on the front are headphone and microphone jacks, but only two USB ports.
On the rear of the chassis, Dell provides four more USB ports. The machine also offers 5.1-channel surround sound, a gigabit ethernet port, a VGA port, and an HDMI port. The absence of a DVI port is slightly disappointing; users who lack HDMI support on their displays will have to settle for VGA.
To get inside the Inspiron 580s's chassis, you'll have to remove a pair of screws; once you're there, the slimmer chassis makes tinkering difficult. The system's interior includes a free PCI Express x16 slot and a PCI slot, but cables and the metal braces severely restrict your maneuvering room.
Dell included a generic keyboard and mouse, neither of which offers anything in the way of extra media buttons. Still, they're quite functional. The mouse is symmetrical and curved, with a comfortable groove for your thumb whether you're right-handed or left-handed.
The only bundled software is the obligatory trial version of the Microsoft Office suite. The included user manual is quite nice: About the size and thickness of a point-and-shoot camera's manual, it offers comprehensive info to get you started.
If you're in the market for a generic productivity machine, choosing the right budget PC is chiefly a matter of finding the one that suits your aesthetic and ergonomic preferences. Performance is less of a concern: You can't expect to do much gaming, but you'll have plenty of power in spades to handle most other tasks.
Dell's Inspiron 580s offers fewer connectivity options than its competitors do, but it also costs less and comes in a slimmer package. If you need a bigger hard drive and a greater array of readily accessible ports, Gateway's SX2840-01 and HP's Pavilion p6330f are better bets, albeit with a reasonable price bump to cover the difference.