Need to find your way?
You probably have a cell phone in your pocket that can help you with navigation. But will your cell phone do the job clearly and conveniently, or should you still consider using a dedicated GPS device?
I ran five navigation alternatives through the day-to-day challenges of guiding me along my way: smartphone navigation apps for the Apple iPhone and the Google Nexus One, variations of the TeleNav server-based navigation service for smartphones and standard phones, the Garmin Nuvi 265WT GPS device, and the two-way connected TomTom XL 340S Live GPS device (two-way connected devices provide access to live traffic info and to up-to-date local fuel prices, weather, and Google local search).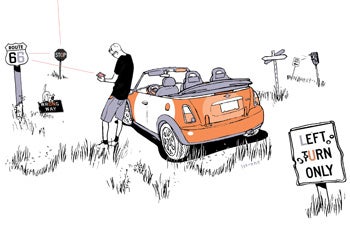 My conclusion: If you use any of these methods, you don't have to put up with getting lost anymore. Excellent turn-by-turn navigation with spoken street names is available via products and services ranging from simple cell phones to expensive dedicated devices. All of the devices I tried gave me very similar routes, and all of them successfully directed me to my test destinations. (That's hardly surprising, since the various devices rely on mapping databases supplied by either Navteq or TeleAtlas.)
So how do you choose the right GPS device?
Which approach is best for you depends on your circumstances and your tolerance for compromise. Dedicated GPS devices have several advantages, including larger screens, no monthly fee, and continuous availability. Moreover, a dedicated GPS product is better for people who conduct calls and navigate at the same time; most smartphones interrupt navigation to handle a phone call. Today you can get an acceptable dedicated device for less than $200, but that's still more than you'd pay to use your existing smartphone. If you have a smartphone already and you rarely need help finding your way, buying a navigation app for the phone makes a lot of sense. But you'll lose the use of your phone for most other purposes while you use it for navigation, and you'll have to cope with a smaller screen.
If you're allergic to monthly bills, you won't be thrilled by server-based navigation systems or by two-way connected devices, both of which charge $10 a month for data services. Server-based navigation doesn't impose any up-front costs, but the service is limited and can be a hassle to use with a no-frills phone. Two-way connected GPS devices cost $200 or more, but offer many more features than server-based systems.
Smartphone: iPhone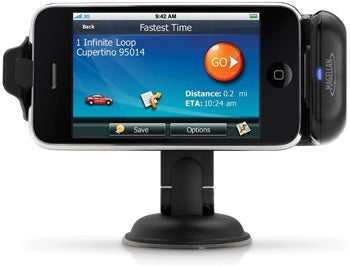 Best for: People who need occasional navigation help and don't mind losing access to phone calls while using the device for direction information. Hardware tested: Apple iPhone 3GS Navigation app tested: Magellan RoadMate 2010 North America Price: $60 (United States and Canada)
The iPhone gives users instant access to a navigation system that offers many of the features of dedicated GPS devices (including the live traffic and weather information that two-way connected devices deliver).
The iPhone's built-in Google Maps app can provide directions, but it lacks interactivity and turn-by-turn directions. That's why, to maximize the iPhone as a navigation device, you need a specialized navigation app.
A smartphone makes a convenient navigator, since it's likely to always be with you. But using a smartphone as a navigation device has drawbacks, too. With the screen constantly on, your phone's battery can quickly exhaust its charge; in my testing of an iPhone equipped with navigation software, the device's battery life dropped by about 70 percent in just over an hour. At a minimum, you'll need to have a charger on hand to support this method of navigation.
In order for the iPhone to get a clear signal from GPS satellites, it needs to sit in a cradle on your car's dashboard or windshield. Basic mounts cost $30, but specialty mounts can improve the iPhone's performance as a navigation device. Both Magellan (for $130) and TomTom (for $120) sell mounting docks that provide power, an amplified Bluetooth speaker to serve as a speakerphone and to issue audio directions, and an auxiliary GPS receiver to complement the iPhone's GPS chip and improve signal reception. But when you add the cost of the mount to the cost of the app, the total expenditure approaches what you'd pay for a dedicated device with a larger screen.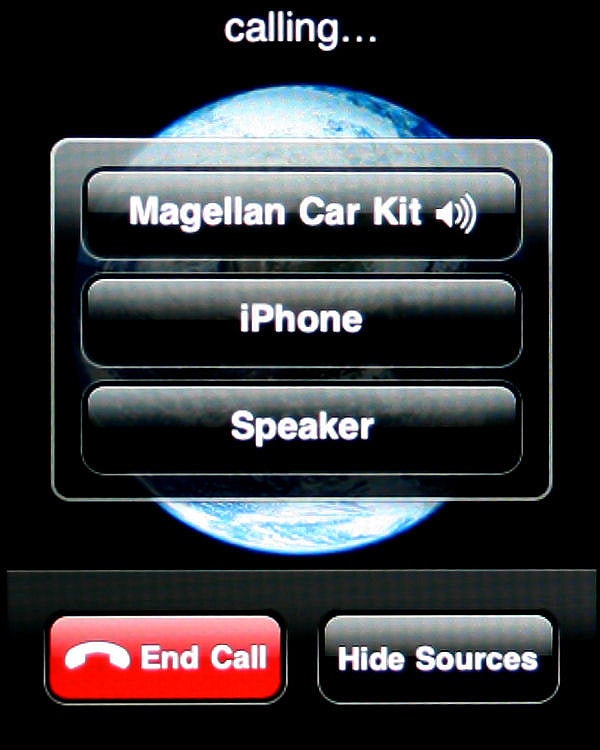 Another drawback: Smartphones tend to be smart about just one operation at a time. Whenever I fielded an incoming call, the navigation application had to shut down; it would relaunch and resume navigation only after I completed the call. If you frequently travel to unfamiliar places, you'll be better off with a dedicated GPS device.
The app I tested, the Magellan RoadMate 2010 North America ($60), includes many features that Magellan provides on its personal navigation devices, such as the Maestro 4700. Although RoadMate 2010's screen layout is similar to that of dedicated GPS versions of the software, the display and button sizes are optimized for the iPhone. To store the location of your vehicle, you simply touch a car icon–great for finding it later in a big parking lot. And you can navigate to contacts in your iPhone or store up to 24 favorites in One Touch locations.
Unlike its competitors from ALK Technologies, Navigon, and TomTom, the Magellan iPhone app does not include Google local search. (You can search through the iPhone's browser, of course, but doing so requires you to leave the navigation app.) It doesn't provide live traffic information either, though this capability may come soon in an in-app upgrade, according to the company.
Check These, Too
Prices for iPhone navigation apps range from $25 to $80, but they don't require any monthly subscriptions; so far, all of the upgrades released for such apps have been free.
Navigon's My Region version ($25) is the cheapest on-board navigation application available for the iPhone, but it restricts you to choosing maps for approximately one-third of the United States (a full complement of maps costs $80).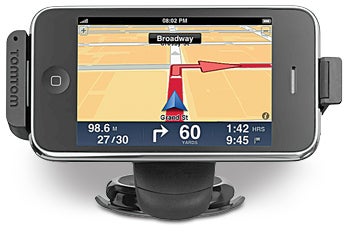 TomTom 1.3 for the iPhone ($60 for the United States only, $70 for the United States and Canada; the mount accessory, included in the image at left, is $120) neatly integrates Google local search. The IQ Routes routing method considers historical traffic and speed data.
Smartphone: Android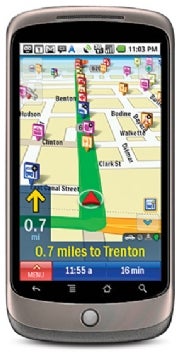 Best for: Owners of Android-based smartphones who have unlimited data plans, want a well-rounded navigation experience, and don't mind doing without niceties like advanced, GPS-friendly car mounts.
Hardware tested: Google Nexus One
Navigation app tested: ALK CoPilot Live 8 Price: $30
Like an iPhone, an Android smartphone carrying navigation software can guide you, with certain limitations: An incoming call will interrupt navigation until you are done talking, and you'll have a tough time viewing the phone's directions unless you buy a mounting dock for it.
Currently, Android-based navigation offers fewer app alternatives than the iPhone (neither Magellan nor TomTom has an Android app, for example) and fewer mounting options. Since the Android operating system is available on many different devices, each with far fewer users than the iPhone has, manufacturers haven't poured money into designing mounts for each handset. For in­­stance, the first car mount for the Google Nexus One (the Android phone that I used in my tests) didn't appear until four months after the handset's debut–and it came from Google itself.
But you may not need a separate navigation app, depending on the version of Android that your handset uses. An­­droid 1.6 includes a version of Google Maps that provides text-to-speech, turn-by-turn directions. And unlike the basic Google Maps implementation that the iPhone 3GS uses, the one built in to Android 1.6 moves your routing map with you to keep your position on the map.
To deliver maps and street views, however, Google Maps must maintain a 3G or Wi-Fi network connection. If you should lose your data connection, you lose your navigation.
Available from the Android Market, a dedicated navigation app stores data locally on your smartphone, so you have ac­­cess to navigation information even if you drive out of 3G range (you will, however, lose live traffic updates, local fuel prices, and the extended capabilities of Google local search).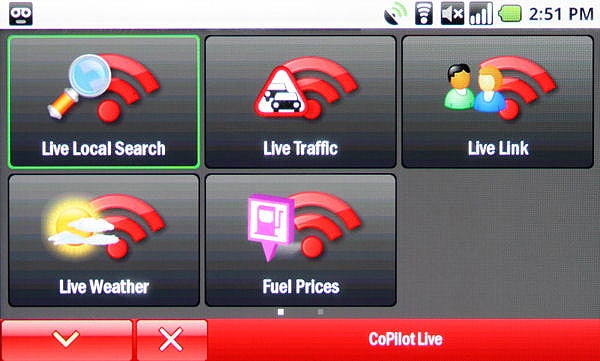 ALK Technologies' CoPilot Live 8 ($30) is the lowest-cost full-featured navigation app for Android that has complete maps of the United States and Canada. The premium version ($20 more) includes fuel-price updates and live traffic data that is very similar to what you'd find on Google Maps; both applications take traffic into account when calculating routes.
CoPilot Live 8 lets you navigate to an address, a point of interest, a contact, a point on a map, an intersection, a location defined by GPS co­­ordinates, or one defined by a geotagged photo. The program's voice-recognition capability simplifies data entry, and you can choose from four route options (quickest, shortest, no expressways, or economical)–a feature that Google Maps doesn't offer.
Overall, CoPilot Live 8 performed well on the Nexus One. At times the touchscreen response within the app felt a little sluggish; but CoPilot calculated my route in two-thirds of the time Google Maps did, and in approximately one-seventh of the time the Garmin Nuvi took. The navigation experience resembled that of a dedicated GPS device, though I missed the larger screen and menu layout of the latter.
Check These, Too
Android doesn't have a plethora of turn-by-turn navigation applications–yet. Intrinsyc's Destinator 9 offers on-board map data, 2D and 3D views, weather reports, lane guidance, and speed-limit information. The full version costs $70. An Android app from Navigon is ex­­pected later this year.
Server-Based Navigation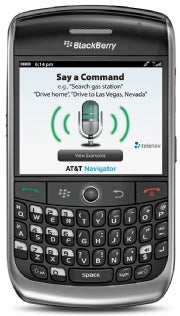 Best for: People with basic navigation needs who don't use smartphones and would rather pay a monthly fee than buy a dedicated device for $200 or more. Hardware tested (1): RIM BlackBerry Bold Service tested: AT&T Navigator 2.0 (via TeleNav) Price: $10 per month or $99 per year Hardware tested (2): Samsung Highlight Service tested: TeleNav GPS Navigator 5.2.9 Price: $10 per month
A standard cell phone using a cloud-based navigation service can provide good turn-by-turn, voice-prompted navigation. But with some handsets, the hassles involved may outweigh the benefits.
The software needed to connect to a cloud-based service comes preinstalled on many cell phones. To activate the service, you pay your carrier a subscription fee–typically $10 per month or $100 per year for unlimited usage.
The main advantage of "cloud-based" navigation is the constant automatic updating of maps and points of interest. And because the maps reside on the service's server, using these live features doesn't tax your phone's memory or CPU. But since the route calculation and tracking occur remotely, away from the phone, many services require a constant data connection for navigation. Your handset acts as a dumb terminal that displays the graphics the remote server sends.
I tried cloud-based navigation services on two phones: AT&T Navigator 2.0 (powered by the latest TeleNav 6.0 service) on a RIM BlackBerry Bold, and a light version of TeleNav's GPS Navigator 5.2.9 on a Samsung Highlight, a fairly basic touchscreen phone. Both services got me where I wanted to go, but the experience on the BlackBerry Bold was far superior to that on the Highlight.
Because the Bold's AT&T Navigator 2.0 downloads the en­­tire route–including surrounding map data–onto your handheld, it can supply directions even when you lose your data connection. On my test route, I continued to receive turn-by-turn instructions despite driving out of data coverage and missing multiple turns. The TeleNav service on the Samsung Highlight couldn't navigate without a data connection.
Voice directions on the BlackBerry were full and often gave compound instructions when turns followed in close succession. The Highlight's service seemed to be trying to issue compound instructions, but often the second part cut off after "and then"; it also left off many street suffixes, neglecting to say "Parkway" or "Street." The BlackBerry's service was more ex­­plicit in announcing highways, too. It said to enter "Route 3 East", whereas the Highlight's service said only "Route 3."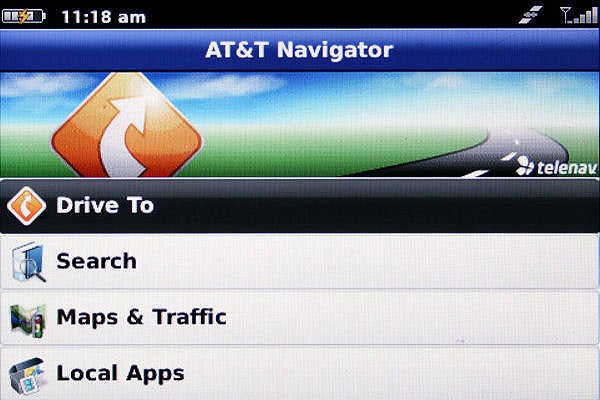 The BlackBerry Bold's AT&T Navigator service lets you use speech to enter an address or to search for a local restaurant or gas station. The voice-recognition feature needed no training and was quite accurate. On the Highlight, I had to input data via the numeric keyboard–a tedious, time-consuming task that was too distracting to attempt while driving.
The services I tried on the Samsung Highlight and the Black­Berry Bold provided a good text-to-speech navigation experience, but the AT&T Navigator service on the BlackBerry did better, thanks to a more powerful platform and new software and features. To see what services are available for your phone, consult the feature matrix and the list of supported devices at TeleNav's site.
Check These, Too
You have (at most) three choices for cloud-based navigation: Google, Networks in Motion, and TeleNav. Your cell phone provider may offer only one service for the device you own. Networks in Motion products are available exclusively through carriers, and sometimes carry brand names other than NIM. TeleNav's products may be branded as TeleNav or with the carrier's name. The Verizon VZ Navigator and Sprint AAA Mobile services rely on Networks in Motion's technology, while AT&T Navigator, Sprint Navigation, and T-Mobile TeleNav GPS Navigator work with TeleNav. Google Maps is free to use on supported handsets.
Dedicated GPS Device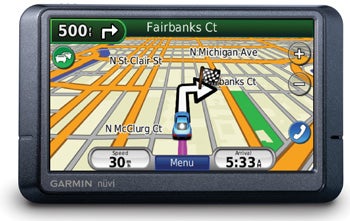 Best for: People who regularly need navigation help and want a large screen and an intuitive interface. Hardware tested: Garmin Nuvi 265WT Price: $170 (street)
You can save money by using a smartphone instead of a dedicated GPS device for navigation, but you may not save much. For less than $200, you can purchase a dedicated device with a 4.3-inch screen–the most common size for such devices, and significantly larger than the screen on any smartphone–treated with an antiglare coating that makes reading text on it easier than reading the material on a phone screen. Even better, you can make a phone call and obtain directions simultaneously. And you may not have to pay for an ongoing subscription (though real-time traffic data may involve a recurring fee).
A dedicated GPS device mounts on your vehicle's dashboard or windshield. All of the maps and points-of-interest data reside on the device–either on an SD Card or in memory that the manufacturer builds in to the device-so you do not have to maintain a data connection. Most GPS devices support text-to-speech for delivering turn-by-turn directions.
Dedicated devices do have a few drawbacks, though. A GPS app on your cell phone may download updates over your data connection; but with a dedicated GPS unit, you must download updates on your PC and then load the data onto your device. Also, whereas updates for phone apps are usually free, manufacturers of dedicated devices often charge for updates.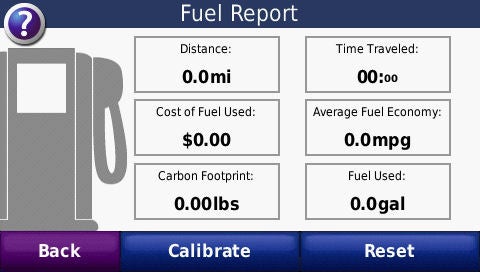 High-end dedicated GPS devices include premium features such as a Bluetooth speakerphone interface, real-time traffic information, 3D buildings and landmarks, and speech recognition. But the speech recognition on these devices is less accurate than the technology on either the Nexus One platform or the BlackBerry Bold's AT&T Navigator service. The Bluetooth phone interface on a dedicated GPS device may not be able to read contacts from your cell phones, either, in which case you'll have to enter your contacts manually. In contrast, smartphone apps take advantage of the handset's phone book, so you never have to reenter phone numbers.
The $170 Garmin Nuvi 265WT that I tested came equipped with a 4.3-inch, 480-by-272-pixel-resolution touchscreen that I found easy to read, even in direct sunlight. Some entry-level models come with 3.5-inch screens; more-expensive models may have 4.7-inch, 5-inch, or 7-inch screens.
The Nuvi 265WT offers access to a database of 6 million points of interest, searchable by name or category. Many categories have subcategories to help you refine your search. You can search for points of interest in your current location, in a different city, or along your route.
Garmin ships the Nuvi 265WT with complete Navteq maps for the United States and Canada, and as part of the deal you also get free lifetime traffic updates.
The Nuvi 265WT's Bluetooth phone interface–a premium feature–won't read the contacts stored in your cell phone, but it will dial points of interest directly. In my informal tests, both incoming and outgoing calls sounded good on it.
Check These, Too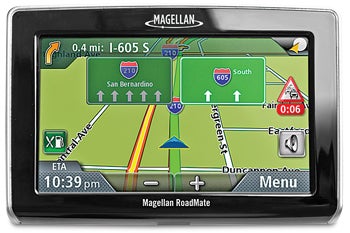 Magellan's RoadMate 1445T ($160) offers free lifetime traffic information and directs you to the proper lane for the next turn. TomTom's XL 340S (about $150) features IQ Routes, which uses historical traffic and speed data to calculate an optimal route. To receive live traffic on the XL 340S, however, you must purchase an optional traffic receiver.
Each of those products carries a 4.3-inch screen. Similar products with 3.5-inch screens cost less. Garmin's Nuvi 265T ($160) is identical to the 265WT except for a smaller screen; likewise, the TomTom One 140S ($130) is essentially a 3.5-inch version of the XL 340S. Magellan's RoadMate 1340 ($150) closely resembles the 1445T–and also has a 3.5-inch screen-but lacks a traffic feature.
Two-Way Connected Device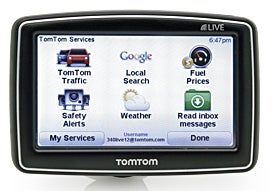 Best for: People who don't have a smartphone but want navigation help, live traffic, weather, and search information. Hardware tested: TomTom XL 340S Live Price: $240 (street)
A two-way connected GPS–known in the technology industry as a portable navigation device, or PND–makes sense only if you need connected services such as weather data, advanced traffic updates, fuel prices, and Google local search, and if you can't use a smartphone to get the information. Connected GPS units are more expensive initially than other dedicated GPS devices, and they require you to pay for a monthly data subscription.
Standard GPS devices, which get traffic information from signals broadcast by commercial FM stations, can only receive data. Connected GPS models can initiate requests for data as well as receive it. Such two-way communication supports real-time traffic updates, weather information, and local fuel prices. Some two-way products can also identify scheduled movie showtimes at nearby theaters, as well as airline flight arrival and de­­parture information. In addition, you can use Google local search to identify and obtain ad­­dresses for restaurants or stores that aren't included in the GPS device's points-of-interest database.
The greatest disadvantage of a connected GPS device is its cost. The price of TomTom's XL 340S Live is $80 higher than that of the similarly featured but unconnected XL 340S; and even so, it covers only three months of data service. Subsequently, you'll pay $10 per month for the accompanying live services–a steep price when you consider that the money could be going toward something significantly more versatile, such as a smartphone data plan.
The XL 340S Live's fuel-prices feature lets you select a fuel grade and then search for the cheapest source nearby or in a wider area. Alternatively, you can search by price area-wide, by distance, or by cheapest price along the planned route. I checked local fuel prices along my route as I drove, and the TomTom-reported prices appeared to be up-to-date.
Google local search supplements the TomTom device's internal database of 7 million points of interest, letting you search near your current location, within a city, or in another location. If you choose 'another location', you can use any of the Navigate To search options, including home, address, favorites, recent destinations, points of interest, current location, point on a map, GPS coordinates, or the position of the last stop. When you select a point of interest that Google local search suggests, you can add it as a favorite, show the location on the map, or navigate to it.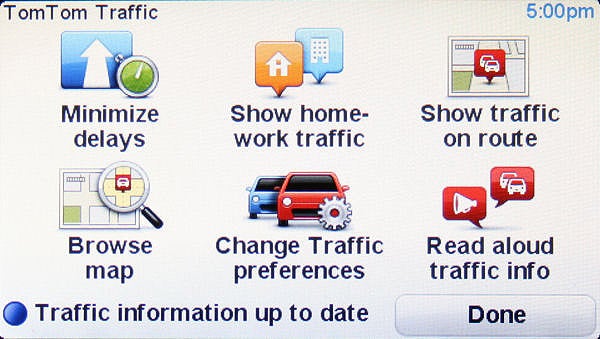 The Live connection also provides live traffic data. You can browse traffic incidents on a map, show traffic on a planned route, and (if you set locations for home and work) check traffic on your daily commute–more options than most other traffic services offer. The XL 340S Live can read traffic updates aloud, too.
If you aren't already paying for a smartphone with an associated data plan, the XL 340S Live might make sense for you. But consider the long-term cost before you commit to it or to any other two-way connected GPS unit.
Check These, Too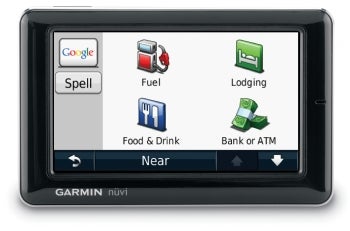 Currently, four connected GPS devices are available: the XL 340S Live that I tested; the larger and more expensive TomTom Go 740 Live ($350); the Garmin Nuvi 1690 ($400); and our Best Buy, the Insignia NS-CNV43 ($200). Like TomTom's devices, the Insignia NS-CNV43 comes with three months of free data. Thereafter, plans for continued coverage range from $5 for three days of service to $99 for a year of service. The unit's two-way connectivity covers movie times and an interface to Twitter–features not found on either Garmin or TomTom products.
In-Dash Car Navigation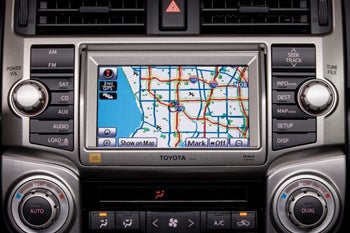 If you're considering buying a new car, you may have the option of specifying a factory installed, "in-dash" navigation system. Those big screens are attractive, but they're expensive and they don't age well. Many navigation systems are sold only as part of an option package that may cost between $2000 and $5000. Also, in many systems, all of the maps and points of interest reside on a DVD; upgrading the data typically costs more than buying a good dedicated GPS device would.
GPS technology is advancing so fast that, in four years, today's state-of-the-art navigation system will likely be a dinosaur at trade-in time.
Still, in-dash units have several advantages, including larger screen size, superior reliability, and more-secure installation in your car. They offer tight integration with an in-car Bluetooth speakerphone, storage capacity for your music, and voice-recognition controls. They may also tie in to the car's speed and direction sensors, ensuring that you'll retain basic navigation functions even if you lose your satellite connection.
Another option is to buy an aftermarket in-dash system, though such systems usually require professional installation.