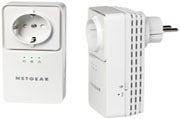 Netgear's recent midrange powerline networking adapters–the AV 200 ($130) and the AV+ 200 ($145)–might be just what you need to fill the gaps in your home network access without spending too much time or money. As with any powerline product, however, you should try before you buy: Your network performance depends on your house's wiring more than on any other factor.
Powerline networking adapters let you use your building's electrical wiring as a network, transforming any power outlet into a potential Ethernet port. They're typically used as a complement to a wireless network (see "Better Together: Wi-Fi And Powerline Networking" for more information) because they can be placed in spots that experience wireless radio problems; and they're good for networking devices that don't support Wi-Fi (many TVs, set-top boxes, and game consoles, for example) without requiring the user to lay down a lot of ethernet cable.
Both the AV 200 and the AV+ 200 report a maximum transfer rate of 200 megabits per second. The main difference between the two is that the AV+ has a noise-filtering outlet built into the unit, so you can use the power outlet for another device without interfering with your network performance, while the AV 200 lacks this feature. Also unlike the AV 200, the AV+ 200 has a grounding prong, which means that you can't use the AV+200 with older electrical wiring.
A single powerline networking kit contains two powerline adapters, a CD with drivers, and a pair of ethernet cables. Each powerline adapter only has one ethernet port, however, and you'll likely need one of the adapters to connect to your modem or router to link your powerline network to the Internet, so if you have multiple rooms that you want to add to the powerline network, you'll need more adapters (they cost about $70 each). Though the CD includes an "Online Manual," it's a broken link to an older Netgear support site; the newer support site doesn't seem to have documentation for either adapter model.
The setup process is fairly simple. The only printed instructions are minimal–a pamphlet with a pair of diagrams explaining how to plug one adapter into a power outlet, how to plug an ethernet cable from your router/modem into that adapter's ethernet port, and how to plug the second adapter into a different outlet and connect that adapter to your PC with the other ethernet cable. If you succeeded in setting up your home broadband connection, you can probably set up the AV 200 or AV+ 200 as well.
Once you've plugged everything in, your PC should automatically detect the new hardware as a normal Local Area Network connection. If you don't want just anyone to be able to plug a powerline adapter into your outlets and be able to access your network (or if you're in a building where you share electric circuits with your neighbors), you can set the adapters to encrypt their traffic by pressing a button on their side–just press each unit's button within 2 minutes, and they should automatically detect each other and be good to go.
We'll have more performance testing in for our full-scale review of these products, but keep in mind that the limiting factor for most powerline adapters is your building's electrical wiring, not the adapter's theoretical maximum. PCWorld reviewer Becky Waring managed to get 59 mbps out of an earlier Netgear XAVB101 powerline adapter, which had an advertised maximum of 85 mbps.
By way of comparison, I only managed to obtain about 12 mbps with the AV 200 and AV+ 200 in my (fairly old) apartment building, and up to 25 mbps in my PCWorld office. This isn't to say that the new adapters are slower than the old ones; rather, it underscores the fact that powerline network speeds depend on your wiring, first and foremost.
The drop in bandwidth between the two buildings was fairly noticeable when I surfed the Web and streamed YouTube videos. In the office, there wasn't much difference between the powerline network and standard wired ethernet; but in the apartment, the powerline network felt like it had more latency than my 802.11g network did. Web pages seemed slower to start loading than usual, and YouTube videos stuttered a bit initially.
Though both speeds are sufficient for most Internet uses (albeit definitely a step down from gigabit ethernet) and though Netgear has announced 500-mbps powerline adapters (the AV 500 and the AV+ 500), they may not be any faster on houses with older wiring than the AV+ 200. If your building can accommodate a high-speed powerline network, however, the Netgear AV 200 and AV+ 200 can help you fill in dead spots without having to run new cables.