Tabbles Free offers something useful and different–a new way to organize and find files on your hard disk, not a File Explorer replacement. Although it is free, it is limited in the number of files it can use.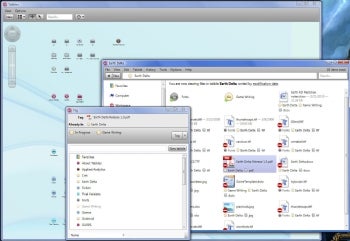 One all-too-common phenomenon on the Internet is the promising but not-quite-there-yet program which dies the lingering death of ever-slower updates until you visit their site and see a "Coming soon!" post from three years ago. Thus, it's a rare and wonderful thing when a program instead regularly updates, fixing flaws without shedding functionality. This is the case with Tabbles, as it has fixed a number of problems from its debut version while enhancing core functionality.
Here's how Tabbles works. A "tabble" is a "tag bubble", which holds all the files or folders tagged with a combination of attributes. This document, for example, can be tagged as a "Review," "Professonal Writing," "In-Progress," and "Tabbles." If I want to find every file associated with this review, including screen-shots, web links, and the like, I might grab everything tagged with "Tabbles." If I want to find all my incomplete works, I will open the "In-Progress" tabble. If I just want to see reviews I'm still working on, I can easily combine the "In-Progress" tabble and the "Review" tabble, seeing just those files with both those tags.
Tabbles has changed a good bit from its earlier incarnations. First, the interface is much closer to Windows norms, and it's quite a bit more responsive as well, with more options for user configuration. (Such as being able to set the speed of the pop-up alerts.) Second, more features have been added, including the ability to have true nested tabbles, for tags which strongly relate to other tags.
For example, on a complex project, I created an "Outdated" tabble which appears inside that project's tabble, and which holds all the files (scattered over many directories) which are not current. This can also be done by creating a "root level" tabble called "Outdated" and then filtering all files with that tag from the main view, but nested tabbles lets me organize my information more easily, especially as the list of tags grows. It should be noted you can still tag any file with any tabble. If you have a tabble "Projects" and a nested tabble "Outdated," you can tag a file "Outdated" without tagging it "Projects," and it will show up when you open the "Projects" tabble, since all "Outdated" files are automatically included.
Using Tabbles is a fairly quick and painless process. If you regularly work on projects which span multiple files which don't all logically fit into a single folder or hierarchy, Tabbles can be of great value.
Note: Tabbles Free can tag only 1,000 files, effectively making it a demo for the paid versions.