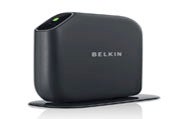 The Play Max is positioned at the top of Belkin's recently refreshed 802.11n Wi-Fi router line. It costs twice as much as the entry-level Surf ($50), but the package supplies you with a dual-band router plus Belkin's full assortment of wireless networking apps for getting the most out of your wireless network.
The set of apps includes Bit Boost, which lets you set rules to prioritize network traffic, and Torrent Genie, which lets you continue BitTorrent transfers when your PC isn't on. You also get three apps designed to help you manage and share your music libraries across your network: Music Labeler automatically tags your music, Music Mover shares your music libraries across your network, and Daily DJ sets up customized playlists by analyzing your music libraries and pick songs that cater to a certain "mood." Finally, Print Genie and Memory Safe let you share printers and schedule backups to devices connected to one of the Play Max's two USB ports, and Self Healing claims to automatically correct networking flaws.
Setting up the Play Max is fairly easy: Plug the router into the modem and power outlet; pop the driver CD into your PC; then install Belkin's router management app, and set it up through the Belkin Setup wizard. The router has encryption turned on by default (with a password printed on an included card as well as on the bottom of the router itself), so you don't need to worry about someone creeping onto your network the moment you plug it in.
Gaining access to the Play Max's more advanced features, such as Bit Boost and Torrent Genie, requires a little bit more digging. Unlike the software that comes with the Cisco M20 Valet Plus, the Belkin Setup app doesn't let you alter the router's configuration from the Advanced Tools section (which just gives you links to the appropriate page in the Web-based GUI setup system).
A Windows utility called the Belkin Router Monitor, which runs in your taskbar, handles the apps. From there, you can change your Bit Boost Quality of Service profile to various presets (Voice over IP, Online Gaming, and so on), launch Vuze–the included BitTorrent client, which can combine with the Torrent Genie app to continue file transfers when your PC is off, if you have a USB drive plugged into the Play Max–and access Belkin's suite of music-related apps.
Belkin Router Monitor got annoying fairly quickly. It stays open in your system tray and pops up occasionally to warn you if you're not on your router's Wi-Fi network–and I couldn't find a way to shut it up. Worse, this warning kept coming back when I was on the router's own 5GHz network (instead of on the 2.4GHz network), and there's no obvious way to stop it short of closing it.
Overall, the apps are a bit lackluster. For instance, the music apps offer no compelling reason to switch from a more robust app such as iTunes, which already handles music sharing, tagging, and randomized playlist needs just fine. Memory Safe's scheduled backup functions are nice, but Windows 7 has its own a built-in Backup and Restore app.
Even the two apps I was most looking forward to–Bit Boost and Torrent Genie–were underwhelming. Bit Boost is essentially a collection of three preset configurations for the Play Max's Quality of Service functions, promising a way to avoid the tiresome chore of configuring QoS rules manually. Unfortunately, while this app might be useful for juggling VoIP and video, the Online Games mode is downright antiquated. It supports 11 games, most of them dating back to the early 2000s (such as Quake, Half-Life, and Team Fortress 2). The most recent game on the list (Battlefield 2) debuted in 2005. If you want newer titles to work with Bit Boost, you'll have to add them manually–port ranges and all.
Similarly, Torrent Genie sounded like a great idea: You leave your PC on to download BitTorrent files all the time. But I prefer to manage my downloads with uTorrent, as Vuze feels slow and clunky–and unfortunately Torrent Genie supports only Vuze, forcing me either to choose between the two or to deal with the hassle of using two torrent clients.
Another complication: One of the perks of leaving your PC on with Vuze (or uTorrent) is the remote management function, which lets you manage your torrents from another PC, but it doesn't work with Torrent Genie.
We haven't yet put the Play Max through our complete battery of performance tests , but it managed to sustain strong bandwidth (between 20 and 25 megabits per second for close and medium ranges) in an office environment with plenty of other Wi-Fi networks nearby.
Though its throughput suffered, it also managed to maintain usable signal strength at longer range in a building with plenty of physical obstructions–meaning that it can probably cover an apartment or small house without requiring additional access points.
In addition, I had no problem streaming HD video at close or medium range. The benefit of having a dual-band radio is that you can set the 5GHz network to allow only 802.11n clients, so it can take advantage of 802.11n's faster speeds while older clients can connect to the 2.4GHz network.
This capability isn't readily configurable using Belkin's included software, however, and users who are unfamiliar with Wi-Fi channels and frequencies could easily set up and use the Play Max without realizing that they weren't getting the optimum speeds for their setup.
While the Play Max is a fairly solid router, the extra bells and whistles don't justify the price. Most of the apps available here either are done better for free elsewhere or don't quite live up to their promise. Still, this bundle is an interesting idea; and if Belkin significantly improves its apps, the Play Max could be a compelling buy for advanced home users.