If you need to create a video of what happens on your computer screen, such as for a demonstration or tutorial, an excellent program to use is Camtasia Studio ($300, 30-day free trial) from TechSmith. TechSmith, as a company, has been around a long time in computer-years. Their focus has always been on utilities for recording, sharing, and using what's displayed on your computer screen. With version 7.0, Camtasia Studio has streamlined editing and added some slick options.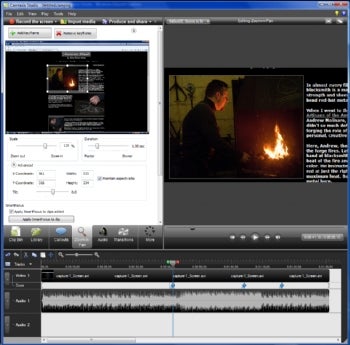 Click Record (or use a hotkey), and you get a 3-2-1 countdown before the capture actually starts. Then, whatever you see on your screen or any sounds that are input into your system–including cursor movements, scrolls, voiceover comments, window changes, warning sounds–is recorded.
When you stop the recording, a preview of your file is displayed. When you save the file, it is loaded into the Edit screen. The Edit screen conforms to a typical video editing interface. Assets are organized in a window to the left, with tabs for your Clip Bin, Library, Callouts, Zoom-n-Pan, Audio, Transitions, Cursor Effects and More. Click and drag assets from these tabs into the Timeline at the bottom of the screen. The preview window is to the right of Assets.
We're not dealing with highly sophisticated video editing, such as in Adobe Premiere. But Camtasia goes beyond the basics of copy/cut/paste, split clips, duration controls, transitions and titling. For instance, during recording, Camtasia's SmartFocus analyzes what you are recording and makes particular note of cursor movements and when text is entered. That automatically adds fully editable and movable zoom keyframes (if your recording resolution is larger than your chosen editing dimensions). Or you can add zoomed-in keyframes wherever you wish in the timeline. In other words, Camtasia makes it comparatively easy to visually zoom into important active areas on your screen, to make sure your viewers understand all the input and interactions you are trying to show them.
New callout tools include the ability to visually display exactly what keystrokes you use during your screen capture. For instance, if you use the hotkey CTL-D, that information can be captured during your recording and displayed on the video, at a custom size. That way, your viewers will have no doubt what keystrokes created the action shown on the screen.
It's easy to set up and record anything on your screen. While you download the program, TechSmith sends you an e-mail with links to online tutorials, which we found to be very helpful and simple to follow. There's even an included PowerPoint plug-in for recording your presentations. And you can add other digital files to your video, including AVI, MPEG, MPG and WMV. Another addition in 7.0 is the ability to save your assets in the Library to share with others, which helps with maintaining a consistent brand. All you do is copy and paste assets, such as titles or sequences, into a timeline to use them in a new video.
One area of confusion with Camtasia is that at each stage of production, it saves to a different file format. The recorded screen capture–called a Camrec–is the raw data. That data is used to create the project file, called Camproj, which you can then edit, and to which you can add other resources (such as sound, other video, titles and such). But neither can be shared. For that, you need to output your file to Flash, Windows Media, QuickTime movie, AVI, M4V, MP3, RealMedia, RealPlayer, or Animated GIF. Camtasia also offers the option of uploading to YouTube or to Screencast.com, TechSmith's own hosting service, which offers 2GB of free storage space and 2GB free monthly bandwidth.
With Camtasia Studio, you don't need highly tuned video editing skills to produce a nice-looking video of any kind of screen-based activities. But, with all the options it offers, a really sleek video will require some production time.