Editor's note: As originally written, this tip on restoring the classic All Programs menu in Windows 7 describes a Registry tweak that also changes your Internet Explorer Favorites, which you may not want. A fix for this change is described here.
My recent post on tweaking the Windows 7 taskbar icons produced a lot of great follow-up questions, including one from reader Bob A. He doesn't like the scrolling All Programs list in 7's Start Menu; he wants to go back to XP's larger fly-out list.
Vista offered the option of restoring that "classic" Start Menu, but Windows 7, inexplicably, doesn't. Fortunately, there are at least two ways to accomplish this: one, a simple Registry tweak; the other, a shareware utility.
I'll start with the latter first, as it's arguably the easier of the two. Classic Start Menu replaces the Windows 7 Start Menu with, well, you can probably guess. Just install and run the utility, then click Start for a blast from the XP past: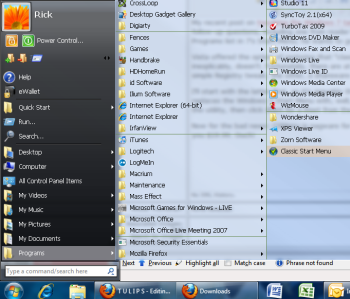 As you can see, Classic Start Menu also leverages Windows' Aero features, so you get some of the best of both worlds.
Now for the bad news: CSMenu is nagware for the first 30 days, and after that it'll cost you $19.99. Ouch!
If you'd prefer a free solution, you can modify Windows 7 so that the Favorites menu becomes an XP-like Programs menu. Here's how:
1. Click Start, type regedit, and press Enter.
2. Navigate to the following key:
HKEY_CURRENT_USERSoftware MicrosoftWindowsCurrentVersionExplorerShell Folders
3. Double-click the Favorites entry and replace the current path with this one:
C:ProgramDataMicrosoftWindowsStart MenuPrograms
4. Navigate to a second key:
HKEY_CURRENT_USERSoftwareMicrosoftWindowsCurrentVersionExplorerUser Shell Folders
5. Repeat Step 3.
6. Exit Regedit, then restart your PC.
Now, when you click Start, you should see a Programs menu on the righthand side. Mouse over to see the fly-out Programs menu of yore: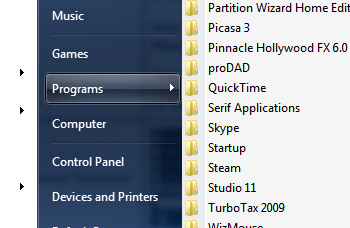 (Don't see it? You'll need to tweak the Start Menu settings. Right-click Start, then click Properties. In the Start Menu tab, click the Customize button. Scroll down to the Favorites menu entry, click its checkbox, and then click OK, OK.)