The fall of Palm from groundbreaking innovator of handheld PDA's, to ailing developer of capable-but-waning smartphones is complete with the announcement that HP will acquire Palm to the tune of $1.2 billion. The primary asset of Palm is the WebOS mobile platform–an asset that puts HP in a strong position to create a tablet device to compete with Apple's iPad.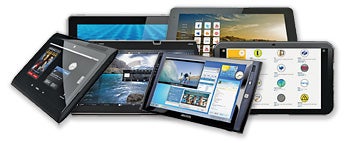 The iPad defies established market definitions–competing at once with e-readers, netbooks, smartphones, PC's, and of course other tablet computing devices. While there are a slew of tablet devices coming to market, it is the HP Slate which has drawn the most attention and defined the argument between the iPad tablet "device" and the Slate tablet "computer".
As my PCWorld peer Sharon Machlis points out, HP doesn't have an existing mobile OS platform to compete with WebOS, and it seems safe to assume that HP wouldn't gamble $1.2 billion to purchase Palm if it planned to axe the WebOS platform. WebOS gives HP an established platform to expand into the popular smartphone market, as well as a more compelling platform for creating a tablet to contend with the iPad.
I have pointed out on more than one occasion that Apple iPad vs. HP Slate is a false comparison. All they really have in common is the tablet form factor. The HP Slate–built on Windows 7, and with both USB and SD memory ports, Adobe Flash compatibility, and other notable features stands out as a clear choice for users who want the "full" computing experience.
However, an early hands-on review of the HP Slate revealed that it may be more like the "full" computing experience than customers expect–essentially providing a netbook sans keyboard in a different form factor with unimpressive performance. On paper the HP Slate seems like a viable option for a Windows-based tablet, but it is not truly an iPad competitor.
HP can leverage WebOS to change that, though. The iPad is built on the iPhone mobile OS, which compares directly with WebOS and Android, not with Windows or Mac OS X. Palm's origins in the PDA market make its WebOS platform a natural fit for a tablet to compete with the iPad–the evolution of the PDA concept.
HP can still build the Slate–as I am sure it will–while also leveraging its $1.2 billion investment in WebOS to develop an alternative tablet device to go head-to-head with the iPad, and other tablets built on mobile OS's rather than desktop ones.
Tony Bradley is co-author of Unified Communications for Dummies . He tweets as @Tony_BradleyPCW . You can follow him on his Facebook page , or contact him by email at tony_bradley@pcworld.com .