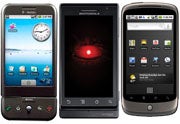 Shopping for a cell phone can be overwhelming; after all, these devices do a whole lot more than just make phone calls. They also come in a variety of shapes, sizes, prices, operating systems, and user interfaces. So which carrier has the best selection of phones? It really depends on what you're looking for.
If you're shopping for an Android phone, Verizon and T-Mobile have the best selections. In fact, the number one phone on the PCWorld Top 10 Cell Phones chart, the HTC Droid Incredible, is on the Verizon network, as is the third-ranked Motorola Droid. The number two phone on the chart, the Google Nexus One, is on T-Mobile.
AT&T currently offers only one Android phone, but it is also the exclusive carrier of the popular iPhone 3G and iPhone 3GS. If Apple's smartphone doesn't do it for you, AT&T also has two different versions of the BlackBerry Bold, which is by far the best BlackBerry phone now available.
Sprint's current offerings aren't as impressive as those of the other carriers–for now. But with the HTC EVO 4G coming to the network this summer, Sprint could very well have a dream team of powerful 4G-capable smartphones in the works.
Here are the top phones by carrier: