Apple will shut down its Lala online music streaming service on May 31. The move comes just five months after Apple bought Lala for an undisclosed price. Could this indicate Apple is serious about opening up a Web-based version of iTunes software-based storefront based on the Lala platform? Some speculate Apple may announce a Web-based version of iTunes this June at the company's annual Worldwide Developers Conference.
Apple has never said why it bought the company or what it planned to do with the service, but the purchase has prompted wide speculation that Apple is planning to introduce a cloud-based version of iTunes.
Lala allowed you to upload your own music library to access your music content from a Web-based interface. You could also listen to songs one time for free; purchase Web-only, non-downloadable versions of singles called Web songs at 10 cents per song; and purchase mp3 music downloads. At the time of its purchase by Apple, Lala boasted more than 8 million songs in its catalog.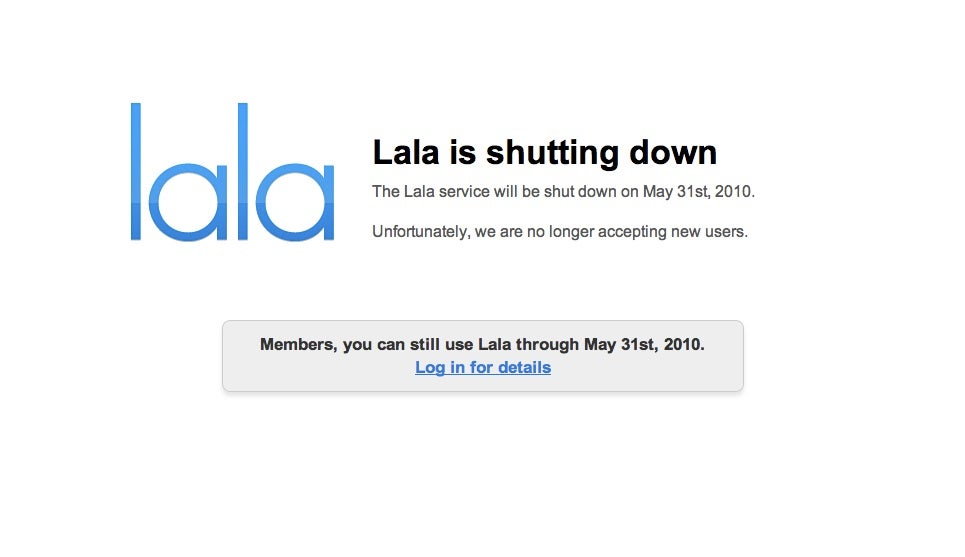 What the End of Lala Means for You
Lala is no longer accepting new customers, but if you already have a Lala account you will be able to use the service until May 31, 2010–Lala did not specify an exact time for the shutdown. If you have outstanding credit with Lala through its digital wallet service, you can continue to use those credits to make purchases until Lala service ends.
Lala will also be offering iTunes Store credit if you have outstanding wallet credits and unredeemed Lala gift cards. You will also be reimbursed the dollar amount for any Web song purchases you made using Lala. Store credits will be rounded up to the "nearest $1 for refunds under $10, or to the nearest $5 for refunds greater than $10," according to Lala. You can also receive your refund as a check by visiting Lala.com/credit (sign in required) and click on the link in the fine print at the bottom of the page.
If you still have an unredeemed Lala gift card, the company is encouraging you to redeem it as soon as possible here (sign-in required). ( Click on image below to enlarge)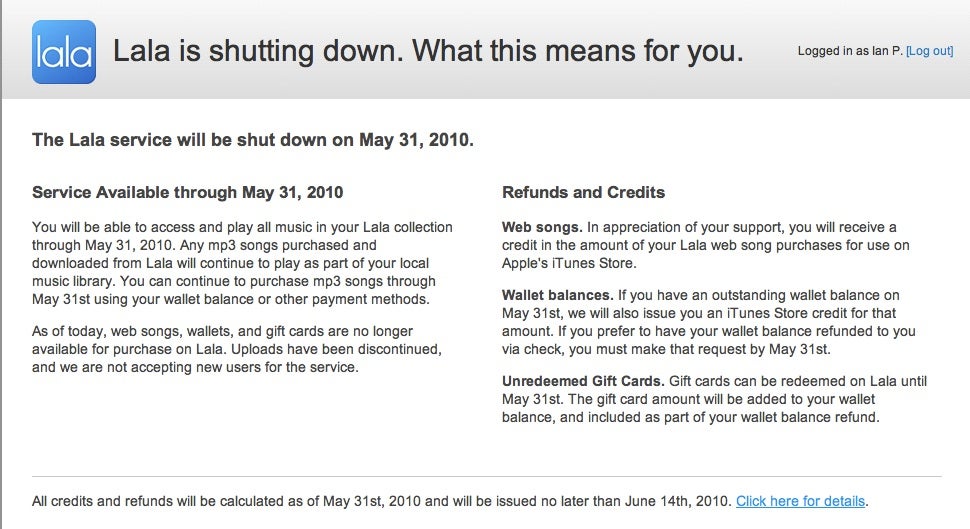 iTunes.com at WWDC 2010?
Lala's final day of operation comes just one week before Apple's annual Worldwide Developers Conference, where the company has traditionally introduced new iPhone devices and other products. With the end of Lala coming so close to WWDC 2010, the move has sparked some speculation that Apple could introduce a Web-based version of iTunes as early as June.
Backing up that assertion is a January report from The Wall Street Journal stating that Apple has been working on a "Web-based version of [iTunes] that could launch as soon as June . . . tentatively called iTunes.com." Currently, iTunes.com redirects to Apple.com/itunes.