Recent rumors suggest Hewlett Packard may be killing its Windows 7-based tablet device slated for release later this year. Instead, HP may look to build a one-panel slate computer based on the Palm Web OS, according to a report by TechCrunch. HP, the world's largest computer manufacturer, announced on Wednesday plans to purchase Palm for $1.2 billion.
Around the same time as the HP rumor, gadget blog Gizmodo said that Microsoft has also killed Courier, Redmond's in-house tablet project. These recent moves by HP and Microsoft, as well as other events on the mobile device front, may be, at least in part, a reaction to the success of Apple's iPad and a rethinking of competing tablet plans.
HP Slate
Despite Windows 7's touch-based capabilities, HP was reportedly unhappy with how Windows performed as a tablet OS, according to Tech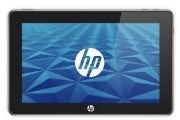 Crunch. While HP's decision to kill the Windows 7 tablet is still rumor at this point, it's not surprising considering statements made earlier this week when HP announced the Palm acquisition. "Palm's unparalleled webOS platform will enhance HP's ability to participate more aggressively in the fast-growing, highly profitable smartphone and connected mobile device markets," HP said in a statement.
A Web OS tablet could prove to be an interesting first step for a new generation of HP mobile devices. But the strategy would depend on HP aggressively supporting third-party application development, and the company's ability to offer a wider range of apps than are currently available for Web OS devices like the Palm Pre and Pixi.
Courier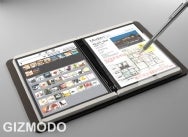 Courier, Microsoft's rumored two-panel tablet project was reportedly conceived as a device with a variety of functions including note taking, drawing, day planning, and Web-browsing capabilities. While the concept was never publicly discussed by Microsoft, Courier generated a lot of interest when rumors about the device were first reported by Gizmodo late last year.
If Microsoft has killed Courier, it will be interesting to see how Redmond approaches the new iPad-inspired tablet sector. Will Microsoft, for example, use its Windows Phone 7 OS for mobile tablet devices or continue to promote the multitouch capabilities of Windows 7?
It's a shame that Courier may never see the light of day, but then again, a Windows Phone 7 tablet could be an equally interesting device.
JooJoo
Fusion Garage's Linux-based JooJoo tablet may have lost some of its mojo thanks to the launch of the iPad and a continuing legal battle over the JooJoo's legacy as the CrunchPad. But the company is still doing its best to fight on. Fusion Garage CEO Chandra Rathakrishnan on Monday put up a post on the company's blog discussing the company's future prospects, and the reason for its current state of "bad joojoo."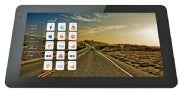 "We were aggressive in our product delivery commitments," Rathakrishnan wrote. "[We] decided to completely revise our UI as we were readying the [JooJoo] for release and our initial units shipped with software that proved to be problematic when put to the test in the real world."
The company says it plans to fix its device problems with a pending software update, and Rathakrishnan said that despite the company's setbacks JooJoo orders are increasing. The Fusion Garage CEO also addressed the iPad stating that the JooJoo is not meant to be an iPad killer, but argues the JooJoo's more open platform compared to the iPad's closed system will allow the JooJoo to thrive. But the company does not believe it could ever be a serious threat to Apple. "We may be ambitious but we are not delusional," Rathakrishnan wrote.
Android
One category of tablet devices that may stand the best chance to do serious battle with the iPad, at least before the end of the year anyway, is the planned slate of Google Android-based tablets from manufacturers like Dell, Notion Ink an
d possibly even Google itself.
But these devices could run into legal obstacles as they are introduced. Apple is currently suing HTC over alleged iPhone patent infringements found in HTC's Android-based phones, and HTC also recently entered into a patent licensing agreement with Microsoft to solve some legal issues over HTC's Android-based devices. It will be interesting to see if other companies introducing Android tablets will also have to deal with legal obstacles from Apple and Microsoft. If so, a competition-through-litigation strategy could have a potentially chilling effect on Android-based innovation.
Despite these issues, however, 2010 really does appear to be shaping up as the Year of the Tablet Computer.
Connect with Ian on Twitter (@ianpaul.