Call me pessimistic, but I don't think Oprah Winfrey's "No Phone Zone" — a push to stop texting and talking on cell phones while driving — is going to work. Car dashboards are distraction magnets. Taking phones out of the equation is only a small part of the battle.
The queen of daytime television has declared Friday No Phone Zone Day, with rallies in Atlanta, Boston, Detroit, Los Angeles and Washington, D.C., according to a video report on ABC News. Winfrey is also introducing a public service announcement with the story of a 9-year-old girl who was killed while riding her bike by a motorist who was talking on her cell phone. A website urges people not to text or talk on their phones without a hands-free device while driving.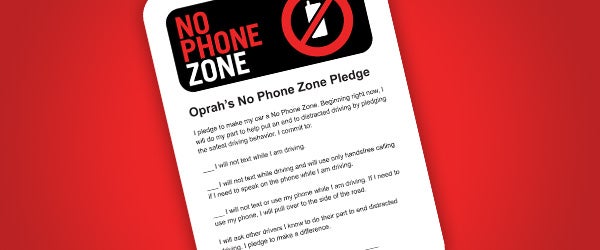 Winfrey's cause is a noble one. In 2008, nearly 6000 people died as a result of distracted driving, and more than a half million were injured according to the National Highway Traffic Safety Administration. Other studies (outlined here) show that using a cell phone while driving delays reaction time in a way akin to having a couple drinks, and that using a hand-held device of any kind can quintuple your odds of having a serious accident.
And yet people continue, including me. For the last five years, I've lived in states where it's illegal to talk on a cell phone and drive. I'm aware of the rules and I try to stay out of trouble — the law is actually a great excuse to avoid phone conversations you don't want to have — but sometimes it's just too inconvenient to pull off the road or remember to call someone back later. And forget about sticking
something in your ear. That's just as distracting.
To really encourage people not to use their phones while driving, we need better technology. The auto industry needs to make Bluetooth integration and voice activation standard, not optional, and phone makers need to work with them to make it as easy as possible for all users. We've seen some great developments like the MyFord Touch, which seeks to make all uses of technology in cars simple and easy. More of that, please.
Beyond technology, there's a culture of distracted driving that includes things like fiddling with the radio, reading GPS devices, eating, drinking and personal grooming, but that's another story entirely, and one that's well beyond PCWorld's purview.
I know that if Winfrey can convince just few more people to adopt a No Phone Zone, that's better than nothing. If one life can be saved, the effort is worthwhile. But the Oprah Winfrey Show averages 6.7 million viewers, and less than 250,000 people have signed the pledge as of now. People aren't paying attention. Maybe they're too busy texting their friends.