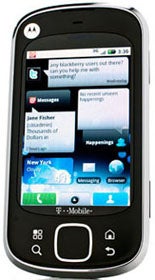 Hey Android users: If you're rocking Motorola's Cliq XT smartphone, I have some good news and some bad news to share with you.
The good news: A software update's on the way to your Android phone.
The bad news: The update isn't Android 2.1.
Confused? Here's what's up.
Android Phone Update: Motorola Cliq XT
The Cliq XT — one of Motorola's newer Android handsets, just launched on T-Mobile this spring — has had a handful of minor issues since its release. The software update being sent out this weekend attempts to correct some of those problems.
According to Motorola, the update should improve the overall performance of the Android phone, allowing for stronger data connections and fewer freeze-ups and force-closes.
Some of the other changes you can expect to see:
• More sensitive response from the phone's touch screen
• Better backlight performance on the phone's display
• Enhancements to the phone's text messaging app
• Improvements to Bluetooth audio while streaming
• A fix for a glitch that caused the camera to periodically freeze
• A refreshed design for the phone's Visual Voice Mail application
Installing the Upgrade
As with most smartphone software changes, Android or otherwise, the update will appear on your phone automatically. Motorola says it's begun the process, so if you haven't received a notification yet, you should soon.
Once you're prompted, select the "Download" option, then select "Install." Your phone will restart once it's finished. In this instance, you'll then have to download a second update; you should see a prompt to do so after the restart completes.
If you have any problems, you can reach a Motorola support rep through the official Cliq XT support site.
The Android 2.1 Question
I know what you're thinking: This is all fine and dandy, but what about the real update — you know, Android 2.1?
Not to fear: Motorola promises the full monty is still on its way. As of now, both the Cliq and the Cliq XT are scheduled to get the latest version of the Android OS sometime within the second quarter of the year.
Don't forget, either, that Adobe's getting ready to start beta testing its Flash for Android player, so we may be able to get our hands on that bad boy before long. You can learn how to sign up for that beta here.
Just don't tell Steve Jobs if you do; I hear he's a bit touchy when it comes to that topic.
JR Raphael is a PCWorld contributing editor and the co-founder of eSarcasm. He's on Facebook: facebook.com/The.JR.Raphael