Google just landed some impressive 3D desktop software in its purchase of Bump Technologies, but a looming patent battle with Apple suggests that Google also had BumpTop's multi-touch technology on the brain when it gobbled up the company.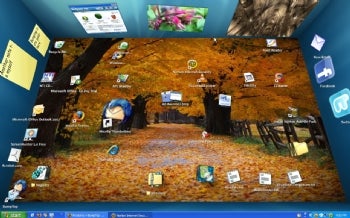 The existing BumpTop software for Windows and Mac, soon to be discontinued, arranges desktops into three-dimensional spaces. Users can arrange files into stacks and stick notes and photos to the walls, a lot like a real desk. But the real magic happened last October, when Bump introduced multi-touch gestures for BumpTop's Windows edition. This allowed users to pan and zoom around the desktop and to stack up and fan out their documents with finger swipes.
Google already allows multi-touch gestures in its Android phones, but BumpTop's list of commands goes beyond what Google currently offers. Some gestures are specific to the 3D desktop, such as dragging two fingers to focus on the desktop's back wall, and some have already been done by Google, Apple and others, such as pinch-to-zoom and flick to move between photos.
But there are some real gems in BumpTop's stash. For example, dragging a finger flat across the screen in BumpTop pushes objects around, and holding one finger in place while dragging another crops images. Even if Google never implements a 3D desktop, these gestures could come in handy for Android or even Chrome OS.
Apple, meanwhile, is beefing up its own arsenal of multi-touch gestures. The company recently won a multi-touch patent for dozens of gestures performed by an entire hand, with fingers spread apart. This covers common computer functions such as copy/paste and undo/redo for interfaces with large touch screens (the iPad, perhaps). Apple also applied to patent a sort of gesture dictionary, which lets users look up multi-touch commands and map them to functions of their choosing.
Maybe it's a coincidence that all these multi-touch moves are happening at the same time, but it seems unlikely given Apple's patent infringement lawsuit against HTC, largely seen as a way for Apple to hit Google by proxy. The patents in question don't specifically mention multi-touch, but the lawsuit sshows that Apple's willing to protect its patents in court, and that should be enough for Google to play along in a multi-touch arms race.
I don't know what patents Bump Technologies holds, if any, for the gestures it uses, but either way the software gives Google some new tricks that Apple hasn't implemented, and that's better than nothing.