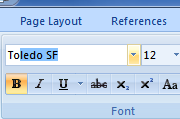 Everyone knows how to change fonts in Microsoft Word, right? You select your text, then click the Font pull-down menu, scroll to the one you want, and then click it.
Just one thing: If you have a lot of fonts installed, it's kind of a pain to scroll through such a long list.
Ah, but did you know there's an easy shortcut? If you know the name of the font, just click in the Font field and type the first few letters. In the accompanying screenshot, for example, I wanted Toledo SF. So I typed To, and presto: ToledoSF appeared in the font-selection field. Then, to apply that font to the selected text, I simply pressed Enter.
This is not unlike using Windows' Start menu to dynamically search for programs and documents: the matching results appear as you type.
This shortcut works in Word 2007 and 2010; I'm not sure about Word 2003 and earlier (as I'm no longer running that version), so I invite any reader who has it to hit the comments and let me know.
More Word tips: