Google's Chrome browser is shining brightly, and it's not hard to see why. First, the stats: According to the latest NetApplications figures, Chrome now has 6.7 percent of the browser market–a stunning rise from zero prior to 2009. Competing browsers are either treading water or, as in the case of Microsoft Internet Explorer, in precipitous freefall.
So what explains Chrome's sudden burst of popularity? Here are five reasons: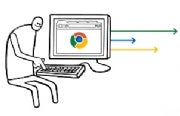 It's very fast: Google's browser is a speed demon. PC World's performance tests have shown that Chrome has the fastest page-loading times versus leading competitors Internet Explorer, Mozilla Firefox, Apple Safari, and Opera Software's Opera. Anecdotally, I've noticed that the speedy Chrome runs circles around slow, lumbering IE. Sometimes, however, Chrome's need for speed is annoying. The browser times out too quickly and fails to load web pages because, well, it's too impatient. Hopefully Google will let users adjust this setting in the future.
It's very simple: Like many Google apps and services, Chrome emphasizes ease of use. Compared with IE, there are fewer menus, options, and features to configure. Usually that's a good thing, but not always. Sometimes I find myself reverting to IE for, say, the print preview feature. Could you add that, Google?
Better security: IE's security mishaps are well chronicled. To be fair, Microsoft has worked diligently to make its browser more secure, but nagging problems persist. By comparison, Chrome is a paradise of protection due in part to two factors: architecture and obscurity. Chrome's use of "sandboxing," isolating Internet commands from the operating system and other apps and data, makes it harder for hackers to load malware onto PCs. At Vancouver's Pwn2Own contest in March, security experts were able to hack the other leading browsers, but not Chrome. In fact, they didn't even try to hack Chrome, the New York Times reports. It's important to note, however, that Chrome's low market share also contributes to its relative safety. If you're a malware creator, why direct your efforts toward Chrome when IE represents such a big, fat target?
Runs well on older hardware: There's still a very large installed base of Windows XP machines out there, particularly in the enterprise market. Chrome's speediness is ideal for older hardware with slower components.
Chrome's ad campaign: Google may have inexplicably under-marketed its tepidly received Nexus One smartphone, but it hasn't made the same mistake with the Chrome browser. A TV ad campaign helped introduce Chrome to the masses, most of whom don't give much thought to their choice of browser.
Microsoft, of course, will continue to improve Internet Explorer, as will the developers of competing browsers. But Google Chrome's early success shows that simplicity sells.
Contact Jeff Bertolucci via Twitter (@jbertolucci) or at jbertolucci.blogspot.com.