A lot of cell phone carriers and Internet providers offer "unlimited" data plans–but a lot of these plans have a cap on the amount of data that users can actually move. In 2008, Comcast notoriously advertised an unlimited plan but imposed a 250GB monthly cap for its residential customers.
So when the 3G-enabled iPad came out with its two different AT&T data plans–a $15/month 250MB plan and a $30/month unlimited plan–blogger Zach Epstein wondered if the unlimited plan really was, well, unlimited.
Know Your Cell's Epstein decided to put the iPad 3G's data plan through a "torture-test." Using an app called Download Lite, Epstein downloaded test files and managed to move an astonishing 31GB of data in two days over AT&T's 3G network. (To put that into perspective, the average iPhone user uses less than one gigabyte of data in a four months).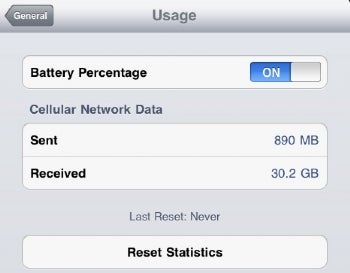 According to Epstein, the actual data usage is likely to be higher than what is shown on the iPad's usage screen, because the iPad has trouble tracking data usage accurately (that's something to take note of if you have a 250MB plan–you're likely getting a little more than your money's worth). Epstein observed at least one instance in which the "data received" calculator dropped as he used the iPad–it went from 28.3GB to 26.1GB.
Epstein notes in his article that most "unlimited" data plans for smartphones have a 5GB soft cap. The iPhone data plan, on the other hand, has no cap on the amount of data that can be downloaded over AT&T's 3G network. That said, iPhone users can only download files as big as 20MB with the 3G network–anything bigger and users will need to connect to Wi-Fi.
The iPad, which is on the same plan as the iPhone, has the same 3G download cap of 20MB–so kudos to Epstein for moving all that data. Epstein says that, while he doesn't plan on keeping with his current pace of 30GB every two days, he does plan on moving at least 100GB of data over the next month. If AT&T doesn't cut him off for messing up their network after 100GB, it's probably safe to say that the data plan really is unlimited.
More: 3G v. Wi-Fi: Which iPad is Right for You?