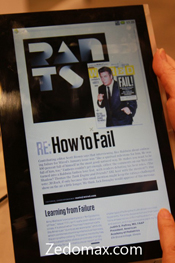 Forget about Flash on the iPhone and iPad: Adobe, it seems, has turned its attention elsewhere. The company used the Web 2.0 Expo in San Francisco to show off a mysterious Google Android tablet that was running Flash flawlessly.
The Zedomax blog has managed to snap pictures and videos of the unbranded, iPad-like tablet at the Adobe booth at the expo, where the site reports there were no Apple products to be seen.
The tablet at the Adobe booth was running Google's Android mobile operating system, the platform for which Adobe previously said it would concentrate on developing. The tablet ran Adobe Flash and Air app "flawlessly", the report said, and videos show YouTube videos playing natively in the built-in browser.
The video of this unknown tablet from Zedomax also shows it running a beta of Wired magazine's app, built with Adobe Air. The report quotes an Adobe employee at the booth as saying there will be a slew of Android tablets at the end of this year, to compete with the iPad, which already has sold more than one million devices.
This mysterious Android tablet not only demonstrates that Flash can run smoothly on a tablet device, but it also conflicts with Apple CEO Steve Jobs' recent statements that Flash technology is not suitable for tablet computers at all.
In his "Thoughts on Flash," Jobs argues that Adobe's Flash technology is unreliable and insecure, that it drains battery life, and doesn't function well with touch interfaces. Jobs also wrote that surfing the Web without Flash is not an incomplete experience, as alternative formats for Flash video are being adopted (HTML5).
However, Adobe CEO Shantanu Narayen replied to Jobs' claims about Flash, saying they are "patently false," and claiming that Apple's Flash ban on iPhones and iPads is based purely on business interests. Because of this escalating dispute over Flash, Apple could reportedly face antitrust pressure from either the Federal Trade Commission or the Department of Justice.