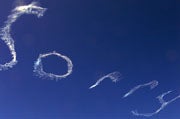 I think I may owe Apple about a million apologies.
Well, OK — actually, I don't. But it appears making any comedic cracks about the company from Cupertino is now officially grounds for trouble. Saying I'm guilty of such a crime would be a ludicrous understatement, and I sure don't want Steve Jobs' mob showing up at my door (hey, we all saw what they did to that guy from Gizmodo).
Now, this new twist in the Apple vs. the world saga isn't about the App Store and its occasional banning of satirical material. No, this chapter takes us to the stage of a certain Ms. Ellen DeGeneres, American Idol judge and talk show host extraordinaire.
Ellen, you see, recently aired an iPhone ad parody on her syndicated talk show. The clip features Ellen's voice narrating over images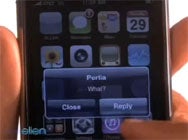 of her struggling to get an iPhone to work. It's an obvious play on Apple's numerous commercials showing people oohing and aahing over their iPhones' features.
Innocuous enough, right? Evidently not. According to a two-minute segment aired on "Ellen" a day later, Apple complained about the parody — strongly enough, it seems, that Ellen felt compelled to make a detailed apology.
"Sometimes I talk about a product and it's a good thing, and sometimes it's not so good at all," Ellen says. "I got in trouble recently because of a…well, today I got in trouble."
Ms. D-to-the-G goes on to show the clip of her iPhone ad parody again, then continues:
"I thought it was funny. A bunch of people thought it was funny. You know who didn't think it was funny? The people at Apple didn't think it was so funny. They thought that I made it look like it's hard to use, and I just want to say that I'm sorry if I made it look like the iPhone is hard to use. It's not hard to use."
Crikey — if Apple's demanding apologies over something like that now, I wonder what kind of groveling a satirical story comparing them to China might warrant. Not to mention an utterly tasteless mock-report about Steve Jobs' upcoming biography. Or a tongue-in-cheek guide to overcoming the iPad's printing limitations.
I think it's high time I change my address. You never saw this story.
JR Raphael is a PCWorld contributing editor and the co-founder of eSarcasm. He's on Facebook: facebook.com/The.JR.Raphael
("Sorry" image courtesy Dave Keeshan on Flickr.)