At a Glance
Expert's Rating
Pros
14-inch display is a good size for entertainment.
Speedy processor easily tackles most tasks.
Cons
Display has lackluster colors and contrast.
Weak 3D and gaming performance.
Our Verdict
Nearly all specs and features are just adequate; the Inspiron 14 will be sufficient for many, but it never shines.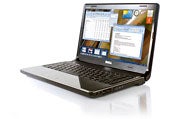 The chips inside the Dell Inspiron 14 (1464) should push this average laptop beyond midrange quality. A 2.13GHz Intel Core i3-330M processor and 4GB of RAM should power any typical home or office workload. A decent, 14-inch display gives room to edit side-by-side documents or to watch videos. Why, then, does the Inspiron 14 end up feeling more low-end in actual use?
Without a dedicated video processor, games and high-performance applications stumble. The 3-hour, 20-minute battery falls short of mobile demands. And the ho-hum, faux-metal case feels a little cheap. Nearly every aspect of this model feels adequate without being impressive.
Shipping for about $680 (as of 5/5/2010), the Inspiron 14 focuses on CPU performance. The system scored a strong 92 in our WorldBench 6 test suite. However, its results in gaming graphics were disappointing, with the system chugging through our Unreal Tournament 3 benchmarks at 28.7 and 22.2 frames per second in low- and high-quality tests, respectively. Those tests were run at a resolution of just 800 by 600 pixels, too.
Real-world performance echoes those benchmarking cues. The Inspiron 14 easily handles Office applications, online tools, and media playback software. High-end software and games falter. You could play less-demanding titles, such as Tropico 3, if you're forgiving. First-person games, such as Splinter Cell: Conviction, are unplayable.
It's a shame because the big screen seems like a match for students who would want to keep up with games. The glossy, 1366-by-768-pixel display looks good enough in many situations. In bright rooms, the sheen can cause excessive glare, and the black border is even worse, reflecting your fingers as they rest on the keyboard. The screen misses the deep contrast and color saturation of other displays. Still, text is sharply defined, and it looks good enough to be satisfactory overall.
The keyboard is responsive even though the plastic keys feel just a little cheap. A few volume and media playback keys share space with the F-keys. The Inspiron 14 has no dedicated extra buttons, but there isn't much reason to want more.
The touchpad matches this aesthetic of averageness. Mouse control feels snappy, and independent buttons left- and right-click. However, the mouse buttons are a little too spongy, instead of letting you distinctly feel each press.
The speakers turn in another adequate performance. Since they're embedded into the base of the laptop, if you're using it literally–on a lap, that is–the sound is muffled and doesn't seem to originate from a specific place. The audio cleans up if you set it on a desk, creating a wide, stereo pattern. The volume can get loud and introduces a little warble at the highest level. But throughout, the speakers strongly favor high tones, dropping midrange and lower sounds. They seem like a typical set of laptop speakers, even if they can get louder than those of many competitors.
A 500GB hard disk and a CD/DVD burner tackle storage duties. Both meet expectations without adding anything beyond the minimum.
Many of the ports fall below that minimum threshold. Sure, you get an HDMI and VGA port. Audio-in and -out appear alongside a 7-format memory-card reader. A Webcam captures video and photos. 802.11b/g/n Wi-Fi and Bluetooth handle wireless connections. But the Inspiron includes only three USB 2.0 ports and a 10/100 ethernet jack. Additional USB, gigabit ethernet, and even eSATA would have been welcome additions.
All together, the Dell Inspiron 14 (1464) is missing that certain something that would boost its overall quality, and Dell fares poorly in our reliability survey of PCWorld readers. A more-impressive battery–even one running 5 hours–would offset most of the midrange features, but the Inspiron 14's died after 3 hours, 20 minutes in our tests. Better graphical performance, a higher-resolution display, or brighter colors could make a difference. Even excellent sound could propel this laptop above competitors. But all of the features are just adequate, and no single spec can offset this midrange aesthetic. The speedy processor comes closest, but today's great laptops include more than a good CPU.