In the beginning was the word…the typed word. The hyperabbreviated speech common to many online games evolved due to the necessity of compressing "I seem to be currently incapable of casting spells, please keep this in mind" into something you can type in the middle of combat, hence "OOM." With increasing bandwidth came the easy transmission of voice. TeamSpeak (free) is one of the leading programs used by gamers to communicate while playing, and version 3 amps up the feature list dramatically. (TeamSpeak also seems to want to get out of the "gamer ghetto" by positioning themselves as a tool for business conferencing. As Gen Y moves into the corporate world, they may well take their favorite software with them.)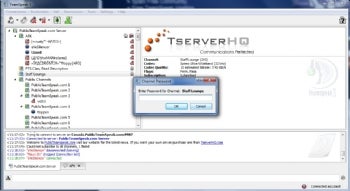 TeamSpeak 3 offers a number of powerful and useful configuration options on the client side, as well as easy set up and a clean interface. It is far more feature-intensive than Ventrilo, the other leading solution. Ventrilo is, however, much more commonly used, at least in the games I play. Most EVE Online, Warhammer, and Worlds of Warcraft guilds advertise a "Vent server"; I've seen few using TeamSpeak.
TeamSpeak 3 offers a great deal of client configurability. Multiple profiles are easy to create and store, and you can set different profiles for different categories. This can be very useful: For example, if the hotkey you normally map for muting input is usurped by a game, you can create a profile for the server you use when playing that game which uses a different hotkey. Other features include avatar images, chat recording, and multiple tabbed connections. There's even a text bar feature, which can be nice if you want to hear other people but aren't in a position to talk yourself.
Ultimately, though, the choice of whether or not to use TeamSpeak boils down to "What's everyone else using?" TeamSpeak isn't a general chat application (though there may well be such servers out there); it is primarily used for groups in games–and perhaps in business settings–to coordinate actions. You use whatever your team, guild, clan, or marketing department uses. Inertia can be powerful. Given its rich feature set, though. TeamSpeak is certainly worth looking into.