PCWorld's most recent wireless performance test put AT&T ahead of the pack with average download speeds of 1410 kilobits/sec (Verizon came in last with an average download speed of 877 kbps). But according to a new survey by ChangeWave Research (an independent outfit we've heard from in the past), customers still aren't satisifed.
The March survey not only places AT&T last among the top four U.S. carriers in percent of calls dropped, but also in customer (dis)satisfaction.
A total of 4,040 U.S. and Canadian users were asked how many dropped calls they'd had over the last three months. AT&T users reported the largest percentage of dropped calls (4.5 percent), while Verizon users experienced the smallest percentage (1.5 percent). Sprint/Nextel (2.4 percent) and T-Mobile (2.8 percent) ranked second and third, respectively.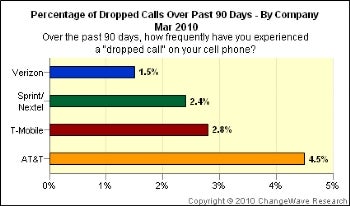 According to ChangeWave, Verizon's dropped call percentage was the carrier's best showing ever in a ChangeWave survey. Conversely, AT&T's dropped call percentage was its worst.
The ChangeWave survey also polled customers on overall satisfaction and Verizon was the clear leader: 49 percent of Big Red customers said they were "Very Satisfied" with the service. Sprint/Nextel came in second (35 percent), while T-Mobile (23 percent) and AT&T (23 percent) tied for last.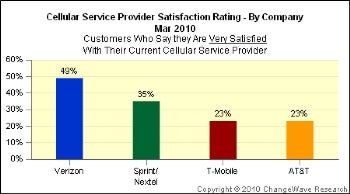 ChangeWave also had some interesting findings about the potential impact of a Verizon iPhone–53 percent of Verizon customers said they'd be "Very Likely" (19 percent) and "Somewhat Likely" (34 percent) to buy a Verizon iPhone.