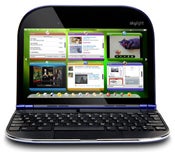 Wondering why smartbooks have failed to arrive on the market this year? Adobe's Flash technology and tablet devices like the iPad may be to blame for diminshied interest in this emerging category of products, ARM's Marketing Chief Ian Drew, said in a ZDNet report.
Smartbooks, which are basically hybrid notebooks that run a lightweight operating systems (usually one designed for smartphones), were expected to arrive on the market since late 2009. But, it's almost halfway through 2010 and they are nowhere to be seen.
The likes of Lenovo and HP have announced smartbooks for this year, devices running on ARM low-voltage processors. But these smartbooks are failing to materialize, because of delays in Flash optimization for the devices, among other things, according to ARM's Ian Drew.
Drew was quoted as saying that smartbooks should have been launched by now, however Adobe did not deliver software integration for its Flash technology on time, something that was crucial to this new breed of devices because they are Internet-centric.
Another factor that delayed the arrival of smartbooks is the iPad and the advent of similar tablet products, Drew says. These devices diverted manufacturers' interest in ARM-based smartbooks. Also, because ARM's architecture can't support regular PC applications, Linux-based smartbooks are just not picking up, Drew says.
The latest round of criticism towards Adobe's Flash does not come easy. Adobe's has just suffered through a very public debate on Flash's presence (or lack thereof) on iPhones and iPads with Apple's CEO Steve Jobs.
While smartbooks remain in limbo, Android smartphones are still supposed to get full Flash support sometime in the second half of this year. Android-based tablets are also on Adobe's hit list, as the company showed off this week a mysterious tablet running full-fledged Flash videos and AIR applications.