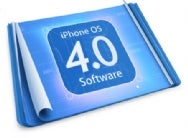 On Tuesday, Apple released iPhone OS 4.0 beta 3 to developers- consistent with their biweekly seeding schedule. The first 4.0 beta was, by most accounts, slow, unstable, and buggy enough to scare many developers off from installing it on their devices. While beta 2 didn't seem to change much on the stability front, and even introduced some weird issues (such as the camera not working), the new beta 3, while still rough around the edges and lacking some core features such as the iBooks app, is leaps and bounds more usable than previous seeds. In fact, while clearly still not ready for the general public, developers should feel confident installing this build on their testing device.
iPhone 3G and second generation iPod Touch still don't have multi-tasking, nor will they ever, so I'm curious if the new "screen rotation lock" feature- which is currently invoked on the 3GS by swiping left on the Multi-Tasking dock- is going to make it onto older models somehow. Surely, a lot of people would be disappointed if it didn't.
And by the way, since I haven't seen this mentioned anywhere, Folders are great! I've gone from eight screens of apps to four and my home screen feels vastly more organized. Here's looking forward to seeing the improvements in the next beta release.
Follow Mike Keller and GeekTech on Twitter.