In the April, 2010, issue of PC World, and back in December here at the old Hassle-Free PC Blog, I explained how Windows 7 users can use built-in tools to create a system-repair disc–an important step to take given that few PCs these days come with one. (Yo, vendors, wassup? Can't spare the extra nickel?)
Reader Dom wants to know how he, a Vista user, can accomplish the same thing. (Stop snickering. Plenty of people use Vista, and a few of them even like it.)
The answer to your question, Dom, is another question: Have you been good about installing Windows updates? Because when Microsoft released Vista Service Pack 1 back in 2008, it included a recovery-disc builder very similar to the one bundled with Windows 7.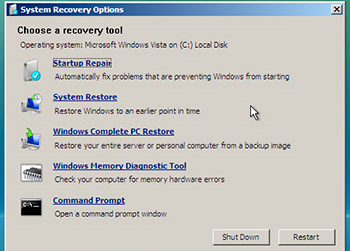 To see if you have it, click Start, All Programs, Maintenance, Create a Recovery Disc. Then just follow the instructions.
If for some reason you don't have SP1 or can't find the tool, try NeoSmart's Windows Vista Recovery Disc, which is available in both 32- and 64-bit versions.
And what about XP users? Your best is UBCD4Win, a free bood-CD creator that provides a wide variety of tools for repairing Windows.
Whatever tool you use, don't put off using it. You just never know when something will get fouled up on your PC, leaving you with no way to access your programs and data. A bootable repair disc can really save the day.