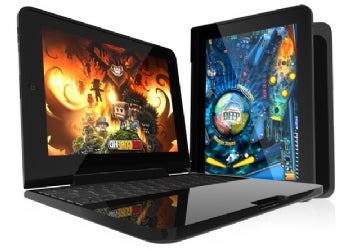 Do you type enough on your iPad that you can make the case for a keyboard, but don't want to lug around a separate input device? ClamCase might have your answer: the first iPad case designed with an integrated keyboard. While there's no set ship date, much less a price, ClamCase has managed to design a pretty slick housing for the iPad. A video rendering of the case shows how it can be used in laptop mode, or in a tablet setting with the top portion folded backward.
There's no official word on availability yet; ClamCase claims it'll ship "later this year," whatever that means. Their website is currently being Slashdotted, so everyone's in the dark regarding pricing and shipping until they manage to recover from the deluge of Apple fans trying to find out about even more cases for their beloved iPads.
What will this case be like to use? Will it be awkward to reach up and touch the screen instead of having a traditional touchpad or pointing stick built into the case? Let us know what you think in the comments.
[via MacRumors]
Like this? Share it!