Strap on your seatbelts, Android fans: Google has a new tool in its Google Goggles Android app, and it's time to take it for a test drive.
Google announced the debut of its Google Goggles image-based text translation feature this morning. The feature, integrated into the new 1.1 version of the Goggles app, allows you to point your phone's camera at any block of text and have it instantly translated into your native tongue.
That's what it does in theory, at least. I gave it a whirl to see how well it actually worked.
Using Google Goggles Text Translation
Using the Google Goggles translation tool is simple enough: After downloading the latest version of the Goggles app (click here for a direct barcode link), you simply open the app and aim your phone at text. It could be on a street sign, a menu, or practically anything else you could imagine.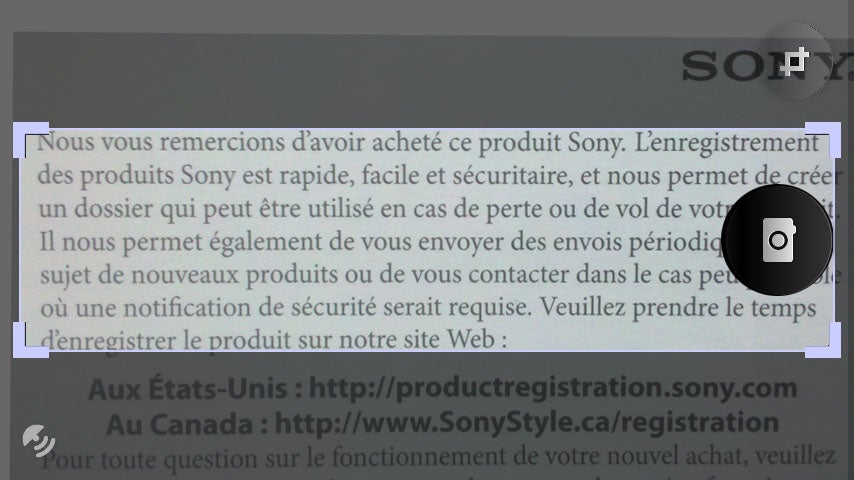 Once you have your target text in sight, you can improve your odds of getting a good translation by honing in on the specific words you want and blocking out everything else. You accomplish this by using a simple new crop tool, accessible via an on-screen icon, to select the area of the screen that's relevant.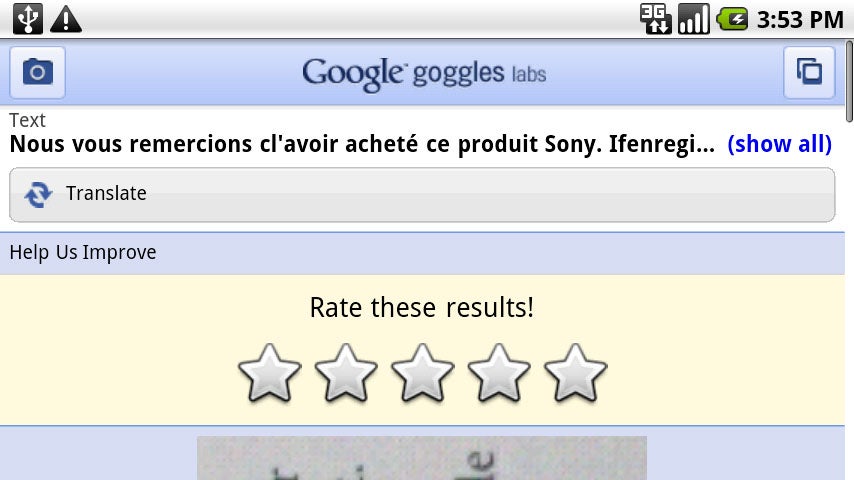 I grabbed the first non-English material I could find — a stack of old product manuals — and started scanning. First up was a chunk of text in French from a Sony LCD TV product registration card. Goggles recognized and picked up the text quickly, providing me with an on-screen version and an option to translate.
Seconds after I clicked the "Translate" button, Goggles gave me my answer. Well, kind of: The app did detect that the original text was in French. But its translation wasn't exactly in English: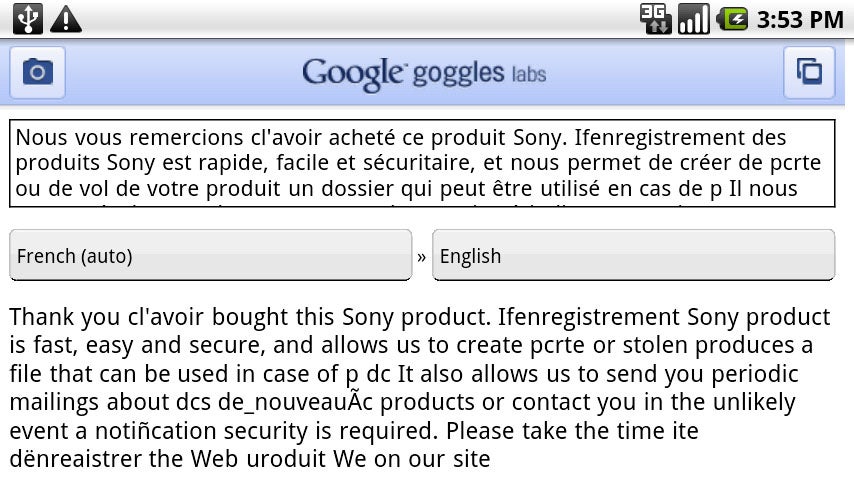 "Thank you cl'avoir bought this Sony product. Ifenregistrement Sony product is fast, easy and secure, and allows us to create pcrte or stolen produces a file that can be used in case of p dc It also allows us to send you periodic mailings about dcs de_nouveauÁc products or contact you in the unlikely event a notiñcation security is required. Please take the time ite dënreaistrer the Web uroduit We on our site"
Being that this TV is a good couple years old, I clearly did not take the time to dënreaistrer it uroduit their site. But the fact that I know what that means speaks volumes about the tool's potential usefulness: Though its translation was far from perfect, it was good enough that if I were in a foreign country and trying to read a document, I could probably get a general idea of it what it was all about.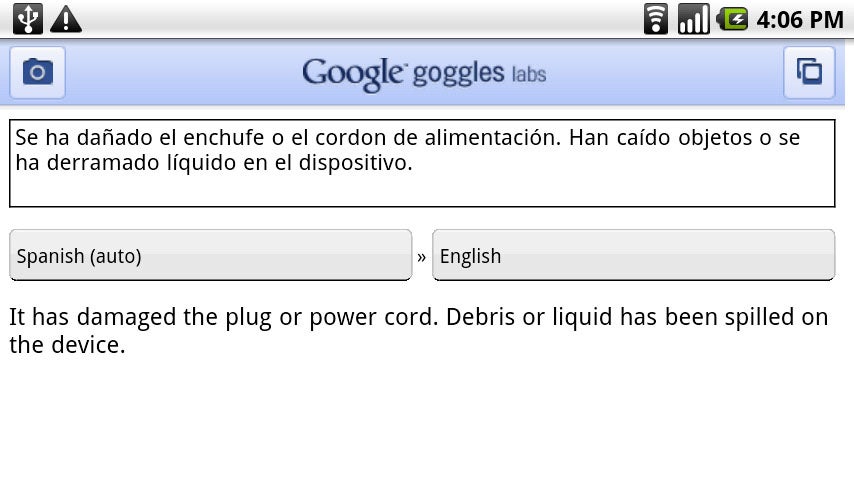 This is a fairly accurate representation of my overall Goggles translation experience. Some text I tried translated nearly flawlessly, like a Spanish sentence in a random manual. In that instance, Goggles interpreted the text as saying: "It has damaged the plug or power cord. Debris or liquid has been spilled on the device."
Over the course of my trials, however, the accuracy was very hit and miss. I'd say it was an average mix of roughly 70 percent coherent info and 30 percent gibberish. Much like my own writing.
Google Goggles Translation Limits
Google Goggles is currently available for all Android phones running Android 1.6 or higher. As of now, the app can recognize text in English, French, Italian, German, and Spanish. It can then translate that text into 17 different languages — everything from Portuguese to Norwegian and even Icelandic. So, yes, you'll finally have an in if you ever run into Bjork.
One word of warning: Attempting to scan something in a language other than the recognizable options can lead to unpredictable results. I tried Goggles on a line of text written in Esperanto, for example. Google Goggles interpreted it as the Sesame Street logo.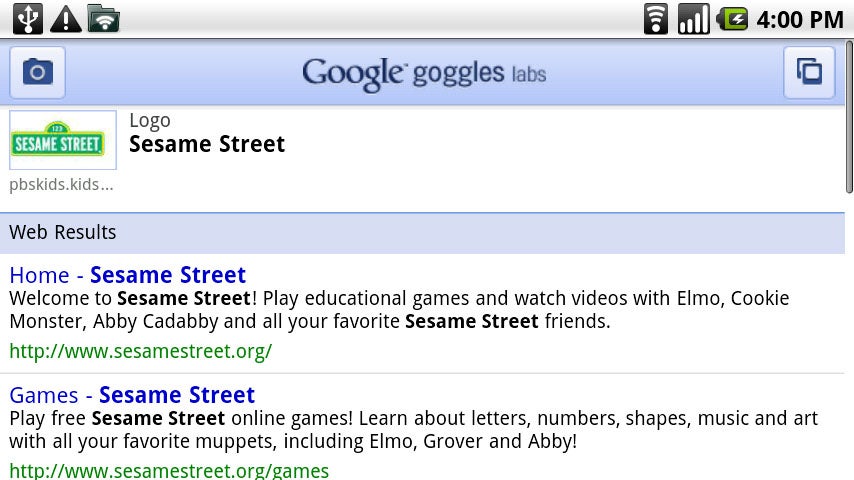 My old pal Snuffleupagus would definitely approve.
JR Raphael is a PCWorld contributing editor and the co-founder of eSarcasm. He's on Facebook: facebook.com/The.JR.Raphael