The Windows System Tray is something of a necessary evil. It shows status icons for various system elements (like volume and network connections) and programs running in the background (like MozyHome and your anti-virus software).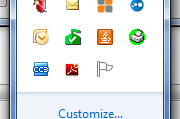 Until Windows 7 came along, it was challenging at best to control what did and didn't appear in the System Tray. It wasn't uncommon to see a dozen or more icons littered down there. Now, however, Microsoft has finally made it easy to choose what you see. Here's how.
Start by clicking the small white arrow at the left edge of the System Tray. You'll see whatever system/programs icons that aren't currently configured to appear full-time in the Tray. Next, click Customize.
You'll see a list of all the Notification Area Icons (Windows 7's term for "System Tray stuff"). Click the pull-down menu next to any one of them and you'll see three choices: Show icon and notifications, Hide icon and notifications, and Only show notifications.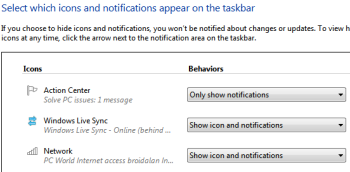 I think these are pretty self-explanatory. If not, try choosing a different option for any given icon. Notice that the change gets implemented immediately–no clicking Apply or OK required. Obviously whatever changes you make won't be permanent until you do click OK; this just gives you a chance to see what your System Tray will look like before you finalize it.
You'll probably want to experiment with different settings for different icons. For example, I don't want the Windows 7 Action Center icon cluttering up my Tray, but I do want to hear from it when there's an issue–so I've set it to Only show notifications.
On the other hand, I routinely use the Control Center 3 software that's tied to my Brother multifunction printer, so it's nice to have that icon at the ready. The setting: Show icon and notifications.
Get the idea? It may take some fiddling, but ultimately you get to decide how your System Tray looks and acts. ('Bout time, Microsoft!)