Dmailer Backup (free download) is a bit unusual for a backup program in that it won't back up to an internal drive, only to external storage. If you think about it, you shouldn't really be backing up to an internal drive anyway, as it's subject to the same physical dangers–shock and electrical, mostly–as the rest of your system. The program also includes 2GB of free online storage which, unlike with popular freebies Mozy Home and Fabrik Ultimate Backup Home, you can access via a Web browser. You may of course increase your online storage capacity to the tune of $35 per year for 30GB or $70 per year for unlimited data.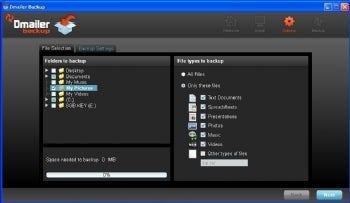 Dmailer Backup installs software both to the USB-connected external drive you define as the backup drive, and your PC. Obviously, the external drive must be present for the backups to transpire. Unfortunately, the program crashed once or twice when the external drive was removed and the manager software wouldn't launch until the drive was reinserted. This is understandable as the software is installed on the drive, but especially with the newer online component, it's both unintuitive and inconvenient. Dmailer-the-company claimed the crashes were due to conflicts with other backup software, however, I had no other backup software present on the test bed. The company also says it's working on a version that will launch when the external drive isn't present.
Other than the few non-replicable crashes and the decision not to launch the program when a external backup device isn't present, I found Dmailer Backup extremely competent. I like the fact that it uses the same data set you define for local backup as the starting point for your online backup and the way the program automatically selects common data files. Dmailer Backup also lets you filter by date, and by size. I find the date filter particularly useful as I've taken to backing up online only those files that I haven't backed up locally to an image.
Dmailer is well worth a look. It's far friendlier than Mozy or Fabrik, and it offers 2GB of free online storage that you can access from any Internet connection. The pay plans are competitive as well, so if you need to upgrade, there's little to complain about.