At a Glance
Expert's Rating
Pros
Classic T-Series keyboard
Lots of ports, including FireWire and eSATA
Cons
LCD image quality subpar with video and games
Mediocre audio playback quality
Our Verdict
The T410 retains the legendary keyboard feel of ThinkPads, but also remains somewhat pricey.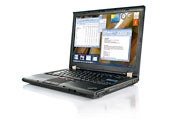 The Lenovo ThinkPad T-series seems to be a case of "more of the same"–which isn't entirely a bad thing. In an era when system designs seem like ephemeral fashion statements and laptop PCs change color with each season, the basic black ThinkPad T410 feels like a comfortable set of jeans. The T-series also has the reputation of being a little on the pricey side. The price of the T410 configuration we review here came in at $1419–definitely on the high side for its feature set.
In many ways, the ThinkPad T410 is the anti-MacBook Pro. At 5 pounds, 10 ounces, the 14-inch unit weighs only a little more than a 15-inch MacBook, but it looks considerably more clunky (and that's with a 9-cell battery). However, the T410 retains the legendary ThinkPad keyboard feel–crisp, with full-size keys and excellent layout. It's easier to write on a ThinkPad than just about any other laptop.
Performance is quite good on standard applications. The T410 posted an excellent score of 108 on our WorldBench 6 test suite. Game performance is lacking, though. Even with the discrete nVidia NVS 3100M graphics chip, you'll want to drop down to DX9 mode in current-generation games. Even then, expect to dial down detail levels considerably. The system falls just short of 30 frames per second in Far Cry 2's Action benchmark, and Stalker: Call of Pripyat fell below 10 fps in DX10 default mode.
The 9-cell battery delivered excellent battery life in our testing, posting 6 hours, 10 minutes.
Besides game performance, another disappointment lies in the LCD display. While it's backlit, viewing angles are terrible. On top of that, video playback quality was sorely lacking. We saw significant motion artifacts and blurring in fast action scenes in our test DVDs (Return of the King and Serenity). DVD upscaling looked soft as well, though color balance was good.
Audio quality was also limited. While we never expect deep bass with laptops, the high range seemed to roll off quite sharply, although stereo imaging was adequate.
What the T410 lacks as a consumer machine, it makes up for as an office powerhouse. The Core i5 540M's turbo mode offers significant performance boosts when needed. Bundled software includes Corel WinDVD and MovieFactory, as well as Microsoft Office trialware. Documentation was somewhat lacking–even online docs seemed generic.
The T410 also offers very good connectivity, including 802.11n Wi-Fi, gigabit ethernet and built-in mobile broadband (though you'll need to pick the right SIM card for your mobile broadband provider). We did experience some initial setup difficulties connecting to our D-Link Wi-Fi router. The Lenovo connection assistant kept setting the encryption type incorrectly; we finally had to manually change it to TKIP.
Display output is handled through an analog VGA port or DisplayPort for digital output. You'll need the proper cable adapter if you're connecting to a DVI-equipped monitor. Three USB ports plus the DisplayPort connector are built into an awkward-looking 2×2 cluster on the left side. The eSATA and FireWire connections, another USB port, and optical drives are built into the right side of the chassis.
Note that Lenovo tends to have a better than average service satisfaction rating in the latest PCWorld product reliability and satisfaction survey, despite generally average ratings in the individual categories.
The ThinkPad T410 offers the classic ThinkPad look, feel, and performance–but you'll have to pay for the privilege. The unit as tested would set you back $1419. While we're confident that the T410 would retain the traditional ruggedness of the T-series, that's still a fairly stiff price, given the disappointing image quality of the display and only a hard drive that runs only 5400 rpm. Still, few laptops are as pleasurable to type on as the T410, and that counts for something.