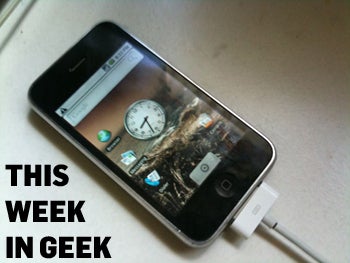 It's been a busy week for smartphone hackers: One of our contributors helped get Android to run on an iPhone 3G and a new jailbreak came on the scene for iPads/iPods/iPhones, but that's just the start for interesting news in the world of Geek. Read on for some stories about USB 3.0, solid state drives, a primer on HTML5 and CSS3, and yes, smartphone hacking: old school edition.
Even faster than USB 2.0 is USB 3.0, and it's coming to market with both portable hard drives and USB thumb drives. Agam Shah explores the latest portable USB 3.0 drives from a variety of manufacturers.
Looking for a quiet hard drive to keep your silent video card company? Chris Brandrick reports that Corsair plans to introduce two drives that weigh in at 32GB and a serious 256GB with write speeds of up to 250 MB/s. While there's no word on pricing or availability, these two new configurations promise fast performance, low power consumption and silent operation, all of which is backed by a two-year limited warranty.
James Mulroy makes clear the alphabet soup of acronyms surrounding these new web standards. What does this mean beyond Flash-free animation and video? How about compatibility issues with your browser—does Firefox deal with HTML5 differently than Safari or Internet Explorer 9? Read on to become an instant expert in the new standards for how the web looks and behaves.
Want a MicroSIM for your iPad? The easiest way to obtain one isn't by waltzing into an AT&T store: rather, it's by hacking. And by "hacking" we mean "taking a pair of scissors to your conventional SIM and trimming it down to MicroSIM size". It works, we promise.
Follow Alessondra Springmann and GeekTech on Twitter.