Smartphones are expensive. Ordinary, "dumb" cell phones are cheap. The trade-off is that basic candy-bar phones are inferior and no fun, and they can't perform highfalutin tasks such as play Super Monkey Ball. Well, that's what you thought.
Your basic feature phone can do more than you think. You won't be able to play games like the ones iPhone users enjoy, but a whole world of services out there can turn any phone into a powerful tool for staying productive and having fun. And if you're limited to using landlines, I have a few handy tips for you, too.
A word of caution: Many of the services described below depend on SMS messaging and consume your cell phone plan's minutes. You might discover that using any one of these services in excess will drive your monthly wireless bill up.
For other tips and tricks to liven up your mobile phone, see "14 Ways to Supercharge Your Smartphone" and "13 Sites and Services to Supercharge Any Phone."
Receive Shopping Advice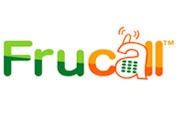 You don't need a fancy camera phone or smartphone to do comparison shopping on the fly–Frucall will check prices for you via SMS, or a regular phone call, for free. All you need to do is text FRU11 (3811) or call 888/DOFRUCALL (888/363-7822) with a product's bar-code number or a book's ISBN, or send the product name and model number (SMS only).
Frucall will then return pricing information for that product at a number of online retailers. Punch in your zip code, and Frucall will factor shipping into the price.
Frucall will work only with supported carriers, including Alltel, AT&T, Sprint, T-Mobile, and Verizon Wireless.
Google offers a similar SMS-based service. With Google Mobile set up for your phone, you can SMS "price" followed by the product name, or the UPC or ISBN.
Access 411 Search

Google and Microsoft each offer free business directory assistance services. Google's is called GOOG-411 (800/466-4411), while Microsoft's is Bing411 (800/246-4411). Both will connect you to the number you look up, for free. Each represents an attractive alternative to paying the nearly $2 fee that most mobile carriers charge for the service.
In addition to the business directory assistance, Bing provides driving directions, traffic, movie times, horoscopes, weather, sports, stock quotes, cheap gas, news headlines, or travel information (which includes services such as finding a taxi).
For residential phone number lookups, you can try 1-800-Free411 (800/373-3411), which offers both business and white-pages listings. You'll have to listen to an audio ad as part of the bargain.
Yet another alternative is Tellme (800/555-TELL, or 800/555-8355); on this service, you can do a business search or request stock quotes, sports news and scores, weather forecasts, movie times, horoscopes, airline listings, and more.
Reach Your Calendar via SMS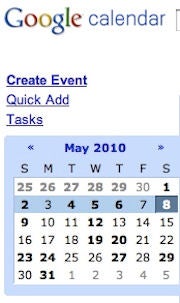 If you use an online calendar service from Google, Windows Live, or Yahoo, you can access some of your calendar tools and information via SMS. All of these services require you to set up access via the Web first.
Google: Users of Google Calendar can perform a variety of calendar tasks by texting GVENT (48368).
Text "next" to see your next scheduled event
Text "day" to see your daily schedule
Text "nday" for tomorrow's events
You can also set up Google Calendar to send you SMS alerts for new, changed, or canceled event invitations.
The downside of Google Calendar for SMS is that not all carriers support the GVENT shortcode; consult Google's supported carrier list to see if your phone can use GVENT. For more information, see the Google Calendar SMS help page.
Microsoft Windows Live: If you use Windows Live Calendar, you can set up your account to send you calendar reminders via SMS. Windows Live alerts are customizable, too, so you can set quiet hours to make sure you don't receive any calendar reminders in the middle of the night.
You can also use Windows Live alerts to receive Hotmail and Windows Live network updates, as well as news updates from Fox Sports, MSNBC, Nasdaq, Newsweek, and other sources. To get started, go to calendar.live.com on your computer, select More options in the upper-right corner, and then click Change how you get reminders. Just as with Google Calendar, not all U.S. carriers support the Windows Live service, and regular messaging rates apply.
Yahoo: To set up calendar reminders from Yahoo Calendar, go to calendar.yahoo.com, select Options in the upper-right corner, and click Reminders.
Get Social With SMS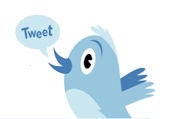 You can use text messages to send and receive status updates on social networks such as Facebook and MySpace. If you're a die-hard Twitter user, you can also use SMS to perform any number of functions. Here are just a few commands you can enter (see Twitter's FAQ on SMS access for more information).
"FOLLOW" plus a username to start following someone
"UNFOLLOW" plus a username to unfollow someone
"ON"/"OFF" to start or stop getting your entire Twitter stream delivered via SMS
"ON"/"OFF" plus a username to start or stop receiving all tweets from a specific user
Before using SMS with Twitter, it's a good idea to sign up for an SMS plan that allows for an unlimited number of messages per month. You'll also have to go through a relatively lengthy verification process with Twitter to start using its SMS service (usually involving about four to six SMS messages from each side). To get started with Twitter via SMS, visit twitter.com/devices or text "START" to 40404 (United States only; Twitter users outside the U.S. can check Twitter's help page to see if the SMS service is offered in a particular country).
Set Up Facebook Text Messages

Facebook has some limited services that you can use with almost any phone. Visit your Facebook Account Settings page and select Register for Facebook Text Messages under the Mobile tab. Once you've gone through the registration process, you can receive texts for friend requests, messages, wall posts, and your friends' status updates. You can also update your own status via text message, and search for phone numbers for friends who have added their number to their profile. If your phone supports multimedia messaging (MMS), you can also upload photos and videos.
Conduct Mobile Searches With Google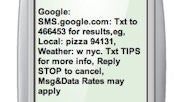 Just because you don't have a smartphone, that doesn't mean you can't search the Web to find what you're looking for on the go. Text GOOGLE (466453) from within the United States with your search query, and the search giant will text you back with the results.
You can also use Google's SMS search to find everything from the nearest FedEx store to the closest pizza joint. Google can serve up 22 different types of data, including driving directions, flight information, and the latest weather report. Just start your SMS request with the subject you're looking for, such as "weather," "movies," or "local" (for local business search).
If you're looking for the weather forecast in Bloomington, Indiana, for instance, you text "weather: Bloomington, IN" to 466453. To see more examples of typical SMS queries, visit Google's Mobile SMS page. Google's SMS search is a handy way to find information in a pinch, but remember that regular message rates apply.
Next: Retrieve Sports Scores on Demand
Retrieve Sports Scores on Demand
The Yankees are taking on the Red Sox, it's the bottom of the ninth, the game is tied…and you're stuck in a meeting. What's a baseball fan to do? The MLB has you covered with the free MLBGO (65246) SMS service. Just text "YANKEES" (or the name of any other team) to 65246, and you'll get an on-demand scoring update. Before you can use the MLBGO service, you'll need to set it up on the MLB.com Website.
MLBGO is free to use on demand, but you can sign up for automated team alerts for $4 per team.
You can get sports scores, news, Craigslist postings, and more by using another SMS service called 4INFO. Just send a text to 44636 with keywords like "news headlines," "white house," or "china" to keep up with the latest news in a bite-size format. You can also have text alerts sent to your phone for each category for free.
Get Directions Without GPS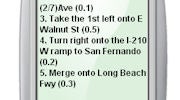 Your phone may not have a GPS navigation app, but that doesn't mean you have to go without driving directions. Text GOOGLE (466453) your starting address, followed by "to" and then your destination address. Google will send you the directions. To make it even easier, you can get directions by zip code.
For example, say you live on the Upper West Side in Manhattan, and you want directions to New Haven, Connecticut. Text "10025 to 06501" to Google, and it will transmit the directions directly to your phone. Keep in mind that Google will send your directions in several batches, since SMS messages can have only about 150 characters (the directions for my example took about six messages).
Send a Text to a Landline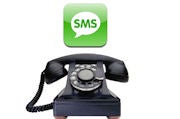 Ever needed to send a text to a friend or relative who refuses to get even a basic cell phone? You're not alone. Most carriers (including Alltel, Sprint, and Verizon) offer a text-to-landline service that will convert your text message into a computerized voice recording and deliver it to almost any landline in the United States.
To use this trick, first enter the 10-digit landline phone number into the 'To' field of your phone's SMS interface. Then enter your text message as you normally would, and send. The message will go to your friend's landline through a computerized transcription service that can even leave the message on voicemail if your friend doesn't pick up.
This service works with phones from most major U.S. wireless carriers except AT&T. Be sure to check with your wireless carrier about fees for text-to-landline, too: Sprint offers this service for free, but Verizon charges 25 cents for each successful text-to-landline delivery.
Perform Other Landline Tricks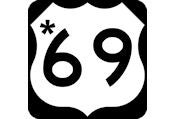 You may have heard that pressing *69 when you've missed a call will tell you who the last caller was. Did you know that about 50 more "star codes" exist? How many your carrier offers varies, however; Verizon, for instance, offers only 12.
Here are a few.
Dialing *67 blocks your landline number from being displayed through Caller ID
Dialing *60 lets you block unwanted callers from calling you again (not all providers offer this service)
Dialing *66 (*69 on AT&T) if you get a busy signal will set up automatic callback–that is, when the other party is off the line, your phone will ring and your call will be put through
Some of these codes differ depending on your provider, and charges for many of the services apply.
Tweak Your Basic Phone via the Web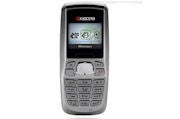 Looking to stop annoying text-message spam? Want to know how to send text messages for free from your wireless phone number? Wireless carriers each offer a Web page for accessing and managing your cell phone account.
At the My Verizon Homepage, for example, you can use the privacy controls to block up to 15 phone numbers from calling or texting you. Most carriers also allow you to keep tabs on usage and to send advanced multimedia messages embedded with animation or sound via SMS.
Sprint users can access parental controls to restrict calls to numbers entered in the phone book (you can block incoming text messages this way, as well).
These tasks may be available through your handset, but I'll take being able to navigate my account via a browser on a 20-inch LCD monitor versus struggling with a 2-inch phone screen any day. Check with your carrier to see what Web-based features it offers.
Maintain Your Blogging Habit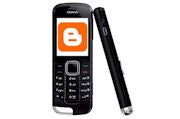 Want to keep your blog readers updated while you're on the go? Google's free blog-hosting service, Blogger, lets you send updates via SMS by texting to BLOGGR (256447). If your phone has MMS capabilities, you can also post photographs. The one drawback is that using this service sets up a separate Blogger Mobile blog, and you will have to sign in later through your computer to associate your new mobile blog with one of your established Blogger blogs. After that, any mobile posts you make will show up on the blog you specify. Blogger Mobile is free, but your carrier's messaging rates apply.
If you use the blogging service Tumblr, you can call a toll-free number and post an audio update to your blog. Before you can send audio posts, you have to sign up online by clicking Goodies from your Tumblr dashboard and then scrolling down to Call In Audio. After you're signed up, just call 866/584-6757 and start audio blogging.
Enjoy Blogs on the Go via Google Reader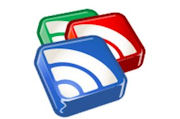 If you want to stay current with your blog reading while traveling, point your browser to google.com/reader/m. There you'll get a simplified version of Google's Web-based RSS feed catcher, Google Reader, that almost any mobile browser can handle.