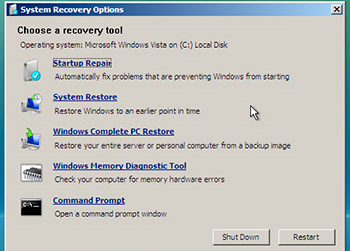 A few months back I explained how Windows 7 users can use built-in tools to create a system-repair disc–an important step to take given that few PCs these days come with one. A reader who uses Vista wrote to ask how he can accomplish the same thing. (Stop snickering. Plenty of people use Vista, and a few of them even like it.)
The answer to your question, Dom, is another question: Have you been good about installing Windows updates? Because when Microsoft released Vista Service Pack 1 back in 2008, it included a recovery-disc builder very similar to the one bundled with Windows 7. To see if you have it, select Start, All Programs, Maintenance, Create a Recovery Disc. Then just follow the instructions.
If for some reason you don't have SP1 or can't find the tool, try NeoSmart's Windows Vista Recovery Disc, which is available in both 32- and 64-bit versions.
And what about XP users? Your best bet is UBCD4Win, a free boot-CD creator that provides a wide variety of tools for repairing Windows.
Whatever tool you use, don't put off using it. You just never know when something will get fouled up on your PC, leaving you with no way to access your programs and data. A bootable repair disc can really save the day.
Windows 7: Show More Icons in the System Tray
The Windows System Tray is something of a necessary evil. It shows status icons for various system elements (like volume and network connections) and programs running in the background like your anti-virus software.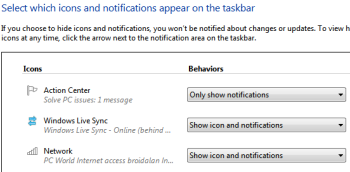 Until Windows 7 came along, it was challenging at best to control what did and didn't appear in the System Tray. It wasn't uncommon to see a dozen or more icons littered down there. Now, however, Microsoft has finally made it easy to choose what you see. Here's how.
Start by clicking the small white arrow at the left edge of the System Tray. You'll see whatever system/programs icons that aren't currently configured to appear full-time in the Tray. Next, click Customize.
You'll see a list of all the Notification Area Icons (Windows 7's term for "System Tray stuff"). Click the pull-down menu next to any one of them and you'll see three choices: Show icon and notifications, Hide icon and notifications, and Only show notifications.
I think these are pretty self-explanatory. If not, try choosing a different option for any given icon. Notice that the change gets implemented immediately–no clicking Apply or OK required. Obviously whatever changes you make won't be permanent until you do click OK; this just gives you a chance to see what your System Tray will look like before you finalize it.
You'll probably want to experiment with different settings for different icons. For example: on one hand, I don't want the Windows 7 Action Center icon cluttering up my Tray, but I do want to hear from it when there's an issue–so I've set it to Only show notifications. On the other, I routinely use the Control Center 3 software that's tied to my Brother multifunction printer, so it's nice to have that icon at the ready. The setting: Show icon and notifications.
Get the idea? It may take some fiddling, but ultimately you get to decide how your System Tray looks and acts. ('Bout time, Microsoft!)
Stop Desktop Icons From Changing Positions
Reader Michael wrote in with this problem:
"I place the icons where I want them on the desktop but if I have to re-boot and/or shutdown at the end of the day, the next time I start back up, the icons are not the where I placed them before I shutdown."
Yep, that definitely qualifies as a hassle! By the way, I should mention that Michael is a Windows 7 user, which begs the question: Why are we still dealing with dumb little problems like this? Yeah, I'm looking at you, Microsoft.
Although I don't know of a specific OS fix for this problem, I do know of two third-party tools that should do the trick.
First up is DesktopOK, a free utility that lets you save and restore desktop icon layouts. Even better, you can set up multiple layouts, which is great for situations like using a laptop with and without an external monitor. (One layout for with, another for without.)
Second, my editor's going to kill me for plugging this product yet again, but I can't speak highly enough of Stardock's Fences. Also a freebie, it corrals your icons into convenient translucent windows–and makes them disappear entirely when you feel like reclaiming your desktop.
One of those should do the trick, Michael. Good luck!
If you've got a hassle that needs solving, send it my way. I can't promise a response, but I'll definitely read every e-mail I get–and do my best to address at least some of them in the PCWorld Hassle-Free PC blog . My 411: hasslefree@pcworld.com . You can also s ign up to have the Hassle-Free PC newsletter e-mailed to you each week .