Pictures of what is alleged to be another prototype of the next-generation iPhone surfaced on Wednesday, this time at a Vietnamese forum. The photos reveal a device similar to the one seen in the Gizmodo-Apple saga, and also show a teardown of the prototype.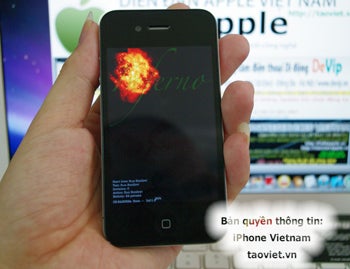 There's little new information on the 4th generation iPhone from this leak, but according to MacRumors, the poster of these photos claims that a Vietnamese businessman bought the prototype in the U.S. together with the iPad, and returned with them to his country.
The same source of the images also posted a three-minutes long video (in Vietnamese; embedded below), which shows the alleged iPhone 4G in working conditions (Gizmodo's model was inoperable). This alleged prototype doesn't run the iPhone OS though, but some sort of testing software called Inferno.
Other notable differences between this phone and the Gizmodo model are that this one uses micro-SIM cards (like the iPad), placed on the right side of the phone, and also lacks the visible screws on the bottom, on either side of the dock connector.
Teardown pictures also show a new chip inside the alleged prototype, fuelling the speculation that Apple would use its speedy A4 chip, found in the iPad, in the next generation iPhone. Also note that the Gizmodo model had XXGB on the back, while this new one shows 16GB – which could mean that we will see 16, 32, and 64GB iPhones this summer.
It will be interesting to see next how Apple will react to this leak — if this is, in fact, a real iPhone prototype. In Gizmodo's case, they have put their lawyers onto it, but with Vietnam, there are slight chances they will be able to recover it swiftly and do damage control. Unless of course, you think this was another Apple-controlled leak/conspiracy, and the company has no interest in getting this device back.
Follow Daniel on Twitter @danielionescu