Lazy? Just drag it.
The "beta" tag may be gone, but Google is constantly working on new features for Gmail. The latest addition allows you to drag-and-drop images into your e-mail messages — a piggyback on last month's addition of dragging attachments. Snore-worthy? Yeah, mostly. And it's not as stellar as you'd think.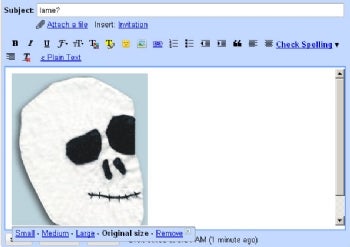 Chrome Only
While Google promises this feature will arrive on other browsers soon, at the moment it's only available for users of Google Chrome. Firefox and IE junkies will just have to wait. This might just be me, but I was wildly dissatisfied with the beta version of Chrome for Macs, so this could be a problem for Apple lovers — and anyone else who isn't a fan of Chrome.
Wanna Resize? Install Something Else
If you're sending a big honking picture of a smiling skull to your friends, you might want to reduce kilobytes by resizing the image. In order to alter the dimensions of your pic, you'll have to enable the "Inserting Images" feature. This isn't that much of a hassle, but is it an extra step Google should've made automatic rather than opt-in.
Browser Shrinkage
Opening Google Chrome fills your screen. Opening most anything fills your screen. But dragging-and-dropping an image into your e-mail requires shrinking your browser. UGH. Frankly, I'm too busy for that.
Crippled Downloading
It's more than likely that if you're receiving an image, you'll want to download it. After all, you can never have too many adorable cat pictures hogging your hard drive. But the drag-and-drop option transforms your e-mail into a rich-text one, so you'll have to have to right-click that bad boy (or drag it onto your desktop) in order to fill your heart with furry feline warmth.
Pretty Useless
In my opinion, this feature is pretty useless. Just hit the attach file link. Not a big deal. But for fans of dragging and dropping, today is your lucky day.