Apple's leak control has apparently failed again, with photos and video of yet another alleged iPhone 4G prototype appearing on a Vietnamese Internet forum and on YouTube.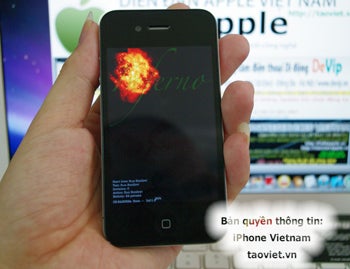 Indeed, the drama surrounding these prototypes — the first was lost in a bar and bought by Gizmodo, which now faces legal trouble — may be the most exciting part of the story, but ideally it's all in service of telling us more about the phone itself. Unfortunately, the supposed new iPhone 4G prototype doesn't reveal many more details, but it helps corroborate the specs in Gizmodo's earlier prototype and paints a more complete picture of Apple's next iPhone. Assuming this latest prototype is real, here's what we know so far:
Design
Apple appears to abandon the curvy shape of previous iPhones in favor of sharp angles on the edges. Gizmodo's prototype had screws in the aluminum border around the sides, but these are gone in the Vietnam version. I'm not thrilled with the new design, but that's another story.
The back panel is made of glass, ceramic, shiny plastic, or maybe even sapphire (according to an Engadget commenter's translation of the latest video), and it's shiny and somewhat smudge-prone, just like the iPhone's front panel. Before the leaks, one analyst speculated that the back panel would be touch-sensitive, like Apple's magic mouse, but neither leak confirms this.
Processor
A teardown of the alleged Vietnam prototype reveals a new chip with Apple branding. This is likely part of Apple's A4 chip family, which debuted in the iPad and gives Apple greater flexibility than third-party processors. Clock speed is unspecified, but 1 GHz seems likely given previous rumors.
Specs
What's new and noteworthy with the iPhone 4G prototypes? A front-facing camera, an improved rear-facing camera with a flash, a second microphone for noise cancellation, and an improved display whose exact resolution is unknown, but is rumored to be 960-by-640. Instead of a standard SIM slot, the new iPhone supposedly uses Micro-SIM, just like the iPad. Gizmodo reported that the iPhone 4G prototype is 3 grams heavier than its predecessor and has a 16 percent larger battery.
The Vietnam prototype lists 16 GB of storage capacity on the back panel. I'm guessing Apple will bump the maximum capacity to 64 GB — as it did with the iPod Touch — and offer a middle-tier 32 GB model, but the prototypes provide no clues on that front.
Carrier
As Engadget notes, a sticker on the Vietnam prototype's A4 processor reads "N90," which also appeared in a bar code attached to Gizmodo's prototype. John Gruber of Daring Fireball cites several unnamed sources who say this is Apple's code name for the fourth-generation GSM iPhone. Verizon Wireless uses CDMA wireless standard instead of GSM, so the phones we've seen so far appear destined for AT&T, despite persistent rumors.