Full Flash support may be Android 2.2's most noteworthy feature, but the update known as "Froyo" could pack a wallop for other applications as well.
Android Police claims to have Android 2.2 running on Google's Nexus One, though it's not clear how it obtained the software. The blog didn't talk much about features, but instead got right down to testing Froyo's performance, and discovered improvements of up to 450 percent over Android 2.1.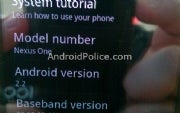 Android Police used a benchmark called Linpack, which measures performance in millions of floating point operations per second, or MFLOPs. Testing generally reflects the state of Android's Dalvik Virtual Machine, which is responsible for executing applications.
Testing revealed a Linpack score of 37.6 MFLOPs in Froyo, compared to 6.5 or 7 MFLOPs in Android 2.1. That's a 5x improvement, the implication being that Android games and apps will run several times faster than before.
The reason for performance gains is likely due to Android 2.2's use of just-in-time complilation, which speeds up Javascript by compiling it into native code right before execution instead of running everything through an interpreter.
Android Police notes that the speed boosts may not have a direct impact on Flash performance, because Flash will probably be compiled to native code already, and therefore won't need just-in-time compilation. However, boosting performance elsewhere clears more resources for Flash, so the benefits could be indirect.
Google hasn't confirmed any details about Android 2.2, except Flash support. Rumored features, as mentioned at AndroidandMe, include FM radio, color trackball notifications, additional free RAM, enhancements to OpenGL ES 2.0 and other stability fixes. Answers will probably come on May 19 and 20, during Google's I/O conference for developers.